Potato Chapli Kabab Recipe । Aloo Ke Chapli Kabab Recipe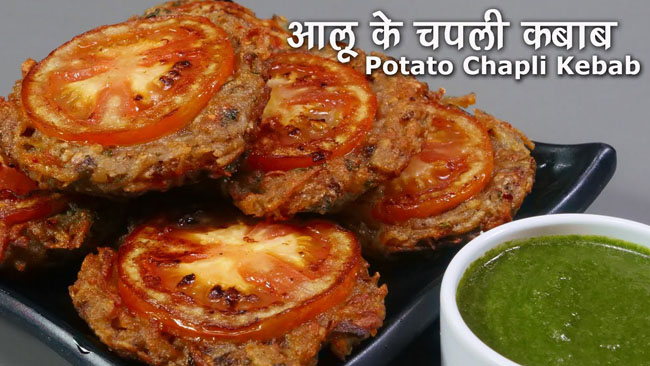 Potato Chapli Kabab, also known as potato cutlet, is a savory dish served with green coriander chutney. The specialty of this dish is its crispiness and spicy taste. Potato Chapli Kababs are very easy to prepare. So, let's start the preparation.
Ingredients Required for Potato Chapli Kabab:
Potato - 4 (300 grams)
Cumin seeds - ½ tsp
Coriander seeds - 1 tsp (crushed)
Pomegranate Powder - ½ tsp
Chaat Masala - ½ tsp
Red Chilli - ½ tsp (crushed)
Salt - ¾ tsp
Ginger- 1-inch baton, grated
Green Chilli - 3 finely chopped
Refined Flour - ½ cup
Tomato - 2 nos
Oil for Frying
Method - Potato Chapli Kabab Recipe:
Take 4-potatoes (350 grams). Peel and grate them. Pour cold water over the grated potatoes. Rinse the potatoes thoroughly to wash off the starch in them. Drain out the water. Put the grated potatoes in a cloth and squeeze them to discard the excess water.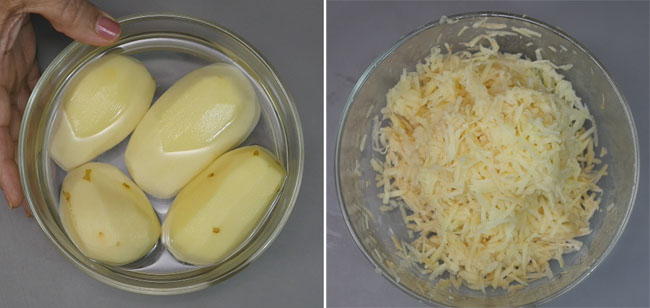 Now, put the potatoes in a bowl. Add ½ tsp of cumin seeds, 1 tsp of coarsely ground coriander, ½ tsp of dry pomegranate powder, ½ tsp of Chaat Masala, ½ tsp of crushed red chili, and ¾ tsp of salt (less than 1 tsp of salt) or as per your taste.
Add 1-inch grated ginger, 3-chilies (finely chopped), 2-3 tbsp of coriander leaves(finely chopped), ½ cup of maida, and mix well. Knead and prepare the dough.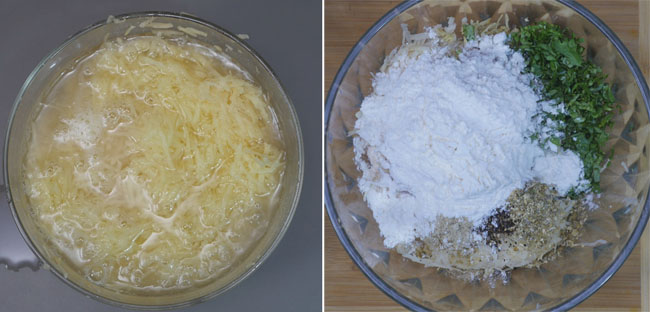 Alternative: You can add dry mango powder instead of dry pomegranate powder and chili flakes instead of crushed red chili. If you want, you can add chopped onion.
Heat 3-4 tbsp of oil in the pan as we have to shallow fry the cutlets. Divide the dough into 6-parts. Pick 1-part of the divided dough. Roll and flatten it to give the cutlet shape. Put 1-slice of tomato above the cutlet.
The oil is just about perfect. Put the cutlet directly in the pan or use a spatula to slide down the cutlet in the pan. Similarly, prepare the remaining cutlets. Fry the cutlets from the bottom until golden brown.
Pour hot oil over the cutlets using a spoon so that the crust can get cooked slightly. Flip and check the cutlet you placed first. Fry the cutlets until golden brown from both sides.
Suggestion: Prepare the cutlet and directly place it in the pan to fry. Do not assemble first and fry next else they will cling to the plate. It would be better to prepare and place them in the pan simultaneously.
Once the cutlet turns brown, press them above the kadhai to discard back the extra oil. Wait for other cutlets to get ready. Once done, take them out on a plate.
Aloo Chapali cutlets are ready to be served. Serve them warm with coriander chutney and enjoy.
Place them on roti or paratha spread mayonnaise over it and serve them as rolls to your kids.
आलू के चपली कबाब - खास मसालों से बना खास नाश्ता । Aloo Ke Chapli Kabab । Aloo k Kabab recipe

Tags
Categories
Potato Chapli Kabab Recipe । Aloo Ke Chapli Kabab Recipe
Nisha Madhulika
Rating:

5.00

out of

5