Kabuli Chana Namkeen Recipe | Chatpata Chana fry | Fried Masala Chana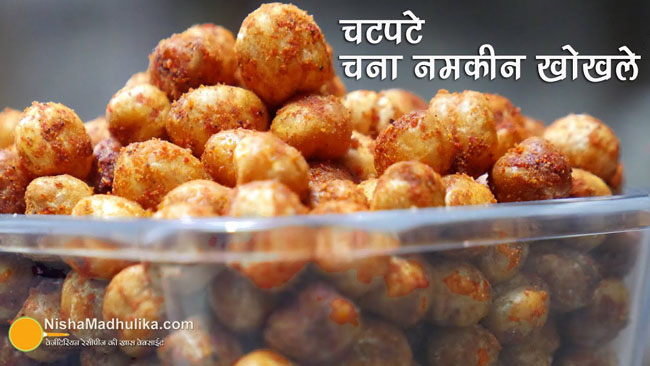 A bowl full of Crunchy-Masala Namkeen with a cup of tea is an evening hunger settler. Today, we are going to share the Kabuli Chana Namkeen recipe to make your evening snack healthier.
The piquant and crunchy taste of this Namkeen will leave you wanting more. You can prepare this Namkeen once and store it for more than 3 months as long as it's in an airtight container
So, let's get started.
Ingredients Required for Kabuli Chana Namkeen recipe:
Chickpeas (Kabuli Chana) - 1 Cup (200 grams)
Salt - 2 tsp
Black Salt - 1 tsp
Kashmiri Red Chilli Powder - 2 tsp
Dry Mango Powder - 3 tsp
Cumin Seeds - 1 tsp
Coriander Powder - 1 tsp
Black Pepper - 1 tsp
Clove - 6 or 7
Oil for frying
Kabuli Chana Namkeen recipe:
Take 1 cup Kabuli chana. Wash and soak them overnight. Drain and rinse them again the next day.
After that boil the Kabuli Chanas. Put them in the cooker. Add 1 cup of water in the cooker and close the lid. Start boiling it and wait for 1 whistle.
After a whistle, turn off the flame. Leave the Chana for 2 minutes in the cooker.
[After 2 mins]
Release the cooker's pressure. Make sure not to overcook the chickpeas. We want pressable Chanas but not too firm. Drain the water from the Chanas. Allow them to dry.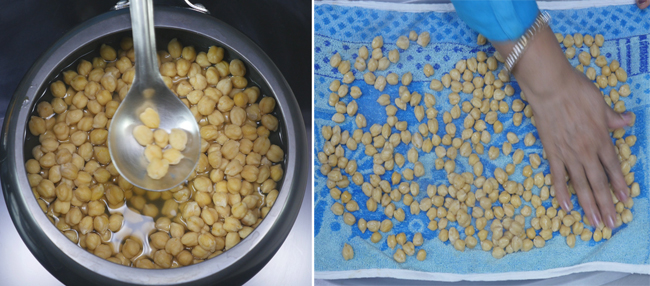 Lay a towel on a tray and transfer the Chanas to it. Leave them for 30 minutes under the fan to dry completely. Spread the Chanas properly over the towel. Make sure to dry them completely.
If the Chanas remain moist, then hot oil droplets might burst and hit your face while frying.
[After 30 minutes]
The Chanas are all dried and have no moisture in them. Our Chanas are ready to be fried.
Pour oil in a kadhai and heat it. We need medium-high hot oil for frying. Keep the flame medium-high. Put as many Chanas in the hot oil as possible. Immediately, cover the pot with a thali (or lid) and cook it for 3 minutes.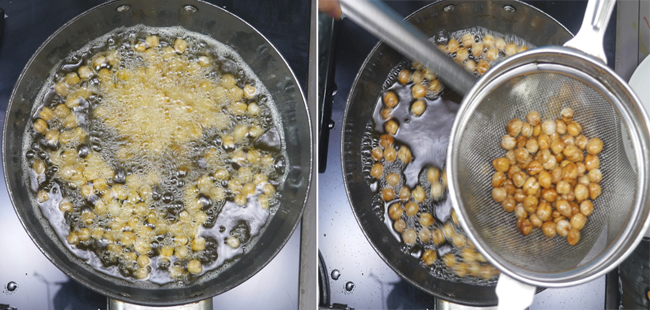 [After 3 minutes]
Remove the lid and stir the Chanas. Fry them over medium-high flame. The Chanas will start coming to the surface. Stir them at intervals and cook them until the colour changes and they become crunchy.
Once the Chanas change color, take 2-3 grains of the Chanas and allow them to cool down. Meanwhile, lower the flame to avoid overcooking. When they are cool enough, crush them.
If it's easy to crush them with hands, then they are fully roasted. Likewise, crush and check 1 grain of each batch.
Take the chickpeas out on a strainer with a bowl or plate underneath (to strain the excess oil). Fry all the Chanas in a similar manner. Each batch takes around 14 minutes.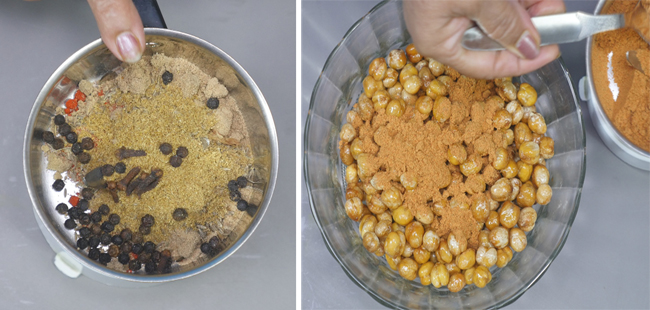 [Prepare Masala for chickpeas]
Add 2 tsp of salt, 1 tsp of black salt, 2 tsp of Kashmiri red chilli, 3 tsp of dry mango powder, 1 tsp of cumin seeds, 1 tsp of coriander powder, 1 tsp of black pepper, 7-6 clove, and finely blend them in a blender. And the masala is ready.
Add 2 tsp of masala in the chickpeas or per your taste. Kabuli Chana Namkeen is ready to be served.
Prepare this tasty Namkeen & have it as a snack. Enjoy Kabuli Chana Namkeen during Tea Breaks!
आगरे के मशहूर नमकीन चना खोखले । Kabuli Chana Namkeen Recipe- Chatpata Chana fry | Fried Masala Chana

Tags
Categories
Kabuli Chana Namkeen Recipe | Chatpata Chana fry | Fried Masala Chana
Nisha Madhulika
Rating:

5.00

out of

5