Moong Dal Barfi Recipe | Moong Dal Barfi - Quick recipe using less ghee
Moong Dal Barfi is a traditional sweet of India and has a mouth-watering taste. It is filled with soft Moong Dal and has a softer texture.
Ingredients for Moong Dal Barfi
Moong Dal - 1 cup (200 grams)
Mawa (crumbled) - 1 cup (250 grams)
Sugar (heaped) - 1 cup (250 grams)
Ghee - 2 tbsp
Green cardamom (coarsely ground) - 5 to 6
Pistachio flakes.
How to make Moong Dal Barfi

Take a cup of Moong Dal, wash it and wipe it using a cloth. After drying it well, grind it in a grinder jar. After grinding it, open the jar after 2 minutes. Take a non-stick pan, add the Dal powder to it and dry roast it.
Stir and roast it on medium flame while continuously stirring it for 2 to 3 minutes. After roasting it desirably, switch off the flame and cool it. After cooling it, grind it again finely.
After grinding it again, preheat 2 tablespoons of clarified butter in the pan. Add the powder of Dal to it and roast while stirring it on medium flame for 3 to 4 minutes.
Take a grinder jar, add a 1/2 cup of sugar along with roasted powder to it. Grind both the ingredients together finely. After grinding them, take a pan and add a cup of crumbled Mawa in it.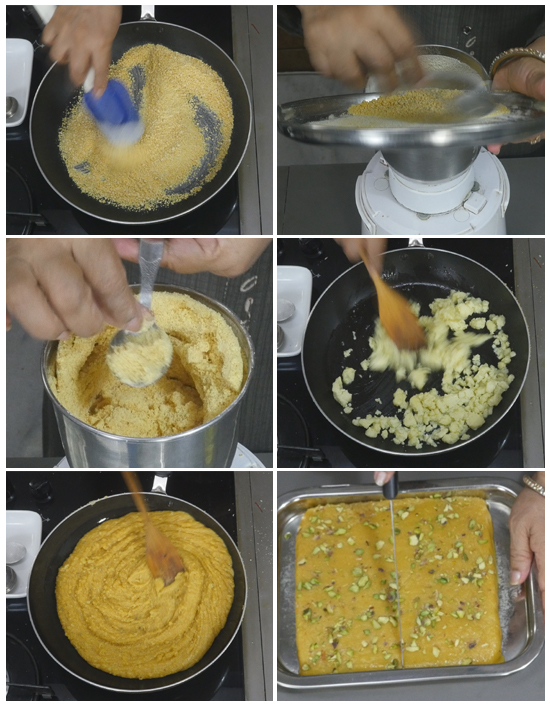 Roast while continuously stirring it on medium flame until clarified butter separates from it. Turn the flame to low, add the mixture of roasted Dal and sugar to it. Add the powder of coarsely ground 5 to 6 green cardamoms to it.
Stir and cook until it reaches to the desired consistency. Switch off the flame after it has cooked desirably. Take a tray, grease it with clarified butter and spread the mixture in it evenly.
Garnish it with pistachio flakes, press to insert them inside the Barfi. Keep the Barfi aside to set for 15 to 20 minutes, After 20 minutes, cut it into your desire pieces and serve it.
Suggestions
Incase Mawa doesn't releases the clarified butter thenadd 2 tablespoons of it to it for balancing it.
मूंगदाल बर्फी - कम घी से झटपट बनाईये | Moong Dal Barfi - Quick recipe using less ghee

Tags
Categories
Moong Dal Barfi Recipe | Moong Dal Barfi - Quick recipe using less ghee
Nisha Madhulika
Rating:

5.00

out of

5