Sesame Honey Chilli Potato Recipe | Homemade Honey Chilli Potato
Honey chilli potatoes is an Indo-Chinese dish which is loved by people in many parts of India. It has a sweetness of honey infused with lip-smacking spices. It has a scrumptious and is perfect for light hunger.
Ingredients for honey chilli potatoes
Potatoes (peeled) - 4 (400 grams)

Arrowroot - ¼ cup (4 tbsp)

Capsicum (vertically chopped) - ½ cup

Sesame seeds - 1 tbsp

Ginger baton (grated) - ½ inch

Green chilli (finely chopped) - 2

Tomato sauce - 2 tbsp

Honey - 2 tbsp

Vinegar - 1 tsp

Red chilli sauce - 1 tsp

Soya sauce - 1 tsp

Red chilli flakes - ¼ tsp

Salt - less than 1 tsp

Oil for frying
How to make honey chilli potatoes
Take 4 raw potatoes, peel them and chop them into the vertical shaped slice. After chopping them, coat them well with arrowroot along with a teaspoon of water. Preheat oil for frying potatoes in a wok. The medium hot oil and a high flame are required to fry the potatoes.
Add potatoes to it for frying and fry until they become crispy as well as brown. After frying these desirably, drain them out and place on a plate. Preheat a pan, add 2 tablespoons of oil in it. Add a tablespoon of sesame seeds to it and roast while continuously stirring these.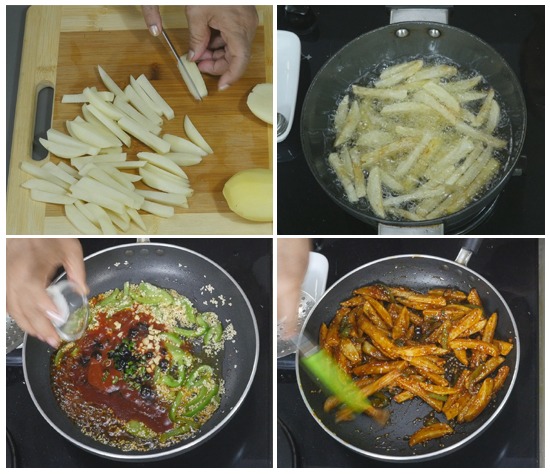 Add a ½ cup of vertically chopped capsicum to it and roast until crispy. Add 2 tablespoon of tomato sauce, a 1.5 tablespoons of honey, a teaspoon of red chilli sauce, a ½ inch of the finely chopped ginger baton to it on low flame.
Add 2 finely chopped green chillies, a teaspoon of soya sauce, less than a teaspoon of salt, a tablespoon of vinegar to it and cook while stirring the sauce. Add a ¼ teaspoon of red chilli flakes to it and mix well.
Add the fried potatoes to it and mix well. Mix until sauce coats the potatoes well. Pour the cooked honey chilli potatoes in a separate bowl and serve them after garnishing with green coriander. The honey chilli potatoes are ready to be served.
Suggestions
You can use cornflour instead of arrowroot.
After frying the potatoes, spread some Chaat Masala over them and serve them like french fries.
You can use coarsely ground chilli or coarsely ground 2 dry red chillies.

क्रिस्पी हनी चिल्ली पोटैटो । Sesame Honey Chilli Potato Recipe | Homemade Honey Chilli Potato

Tags
Categories
Sesame Honey Chilli Potato Recipe | Homemade Honey Chilli Potato
Nisha Madhulika
Rating:

5.00

out of

5