Migi Paag | Paag of coconut and muskmelon seeds | Janmasthami Paag
Migi Paag is a sweet which is mostly made on an auspicious day of Janmashtami. It is made up of dry fruits fused with sugar syrup. It is tastier to eat and has a mouth melting texture.
Ingredients for coconut and muskmelon seeds Paag
Dry coconut - 1.25 cups (100 grams)

Muskmelon seeds - less than 1 cup (100 grams)

Sugar - 1.75 cups (400 grams)

Cardamom powder - ½ tsp

Nutmeg powder - ½ tsp

Ghee for greasing
How to make Paag of coconut and muskmelon seeds
Preheat a pan, add a cup of muskmelon seeds in it and dry roast them while continuously stirring them. Place a lid over them if they start popping. After roasting the muskmelon seeds, switch off the flame and place them in a separate bowl to cool them.
Roast grated 0.25 cup of dry coconut while stirring it for a minute. After roasting it, separate it them in a bowl and cool them. Take a pan, add 1.75 cups of sugar in it along with a ½ cup of water. Stir and cook until sugar dissolves in it. The sugar syrup should be of a long thread consistency, turn the flame to low once it reaches the desired consistency.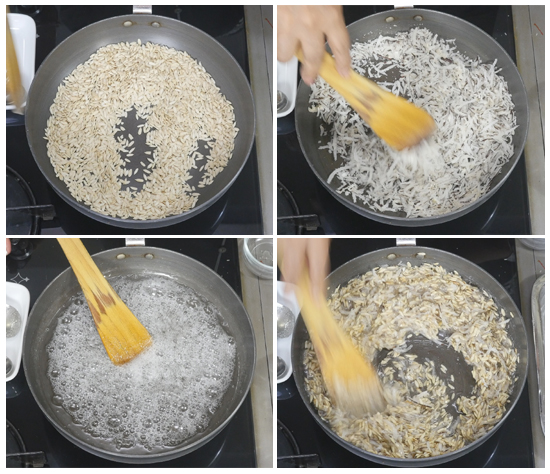 In the meantime, take a tray and grease it with clarified butter. After turning the flame to low, add coconut, muskmelon seeds, a ½ teaspoon of cardamom powder and nutmeg powder to it. Stir and roast all the ingredients well for a minute.
Keep on stirring it for a while to mix the separated sugar syrup along with Paag. Remove it from the stove, continuously stir it and cool it. After cooling it, add it in the tray and spread it evenly. Keep it aside to set for 5 minutes. After 5 minutes, mark the cutting areas over it.
Keep it aside to rest for half an hour and later on separate its pieces. The Paag has set after half an hour, cut to separate its pieces and the Migi Paag is ready to be served.
जन्माष्टमी के लिये खास नारियल मगज़ कतली । Nariyal Mewa paag | Coconut melon seeds Chikki

Tags
Categories
Migi Paag | Paag of coconut and muskmelon seeds | Janmasthami Paag
Nisha Madhulika
Rating:

5.00

out of

5