Atta Kachori Recipe | Atta Khasta Kachori
Wheat flour stuffed Kachori is a recipe of snack which is easier to make and tastier to eat. It is filled with a scrumptious stuffing of potato fused with the varieties of spices.
Ingredients for Atta stuffed Kachori
Wheat flour - 2 cups (250 grams)

Potatoes (boiled) - 3 (300 grams)

Semolina - ¼ cup

Ghee - 3 tbsp

Fennel seeds - ½ tsp

Green chilli (finely chopped) - 2

Green coriander (finely chopped) - 2 to 3 tbsp

Ginger (grated) - 1 tsp

Coriander powder - 1 tsp

Red chilli powder - ½ tsp

Dry mango powder - ¼ tsp

Turmeric powder - ¼ tsp

Garam Masala - ¼ tsp

Salt - 0.75 tsp

Oil - for frying
How to make Atta stuffed Kachori
For the dough
Take 2 cups of wheat flour in a bowl and add a ¼ cup of semolina to it. Add a ½ teaspoon of salt, 3 tablespoons of clarified butter to it and mix well.
Add a cup of water to it and knead its a soft dough. After kneading the dough, cover and keep the dough aside to set for half an hour.
For the stuffing
Take 3 boiled potatoes, peel and grate them. Preheat a pan, add a tablespoon of oil to it. Add a teaspoon of fennel seeds to it and roast it for a while. Add 2 finely chopped green chillies, a teaspoon of grated ginger to it.
Add a ¼ teaspoon of turmeric powder and grated potatoes to it. Add a ¾ teaspoon of salt, a teaspoon of coriander powder, a ½ teaspoon of red chilli powder to it. Add a 1/4 teaspoon of Garam Masala, a 1/4 teaspoon of dried mango powder to it.
Stir and roast potato along with the spices for a while. Add some finely chopped green coriander to it. Stir and roast the spices along with potato for 2 to 3 minutes.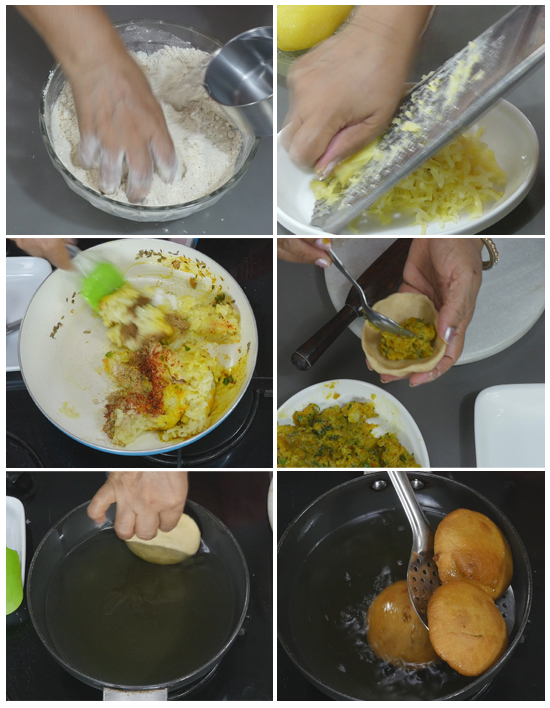 For the Kachori
The dough will set after an hour, apply some clarified butter on your palms and mash it. Divide it into lumps as well as, preheat oil in a wok for frying. Lift a dough lump and roll it. Hollow it with the help of thumb and fingers.
Place 1 to 2 teaspoons of stuffing inside it. Seal the stuffing well with dough, press it downwards and stick it. The lesser than medium heated oil is required to fry Kachori. Turn the flame to low and expand a stuffed Kachori using your palms.
Add a Kachori to fry and expand the rest of Kachoris likewise. Do not touch Kachori for 5 to 6 minutes in the beginning and flip it once it starts floating although, bounce oil over it using a ladle.
Later on, stir and fry it on low flame. Stir and fry until Kachori appears golden brown. Turn the flame to medium and fry Kachori until they become crispy. Drain out the fried Kachori and decrease the temperature of the oil before adding another round to it.
11 to 12 minutes was acquired to fry a Kachori. Fry the rest of Kachoris likewise. The potato stuffed wheat flour Kachori is ready to be served. Serve it along with green coriander dip or tomato sauce.
Suggestions
Instead of clarified butter, the Moyan can be added of oil too.
You can use the ginger paste instead of a grated ginger baton.
Atta Kachori Recipre | आलू भरी आटे की खस्ता कचौरी । Atta Khasta Kachori

Tags
Categories
Atta Kachori Recipe | Atta Khasta Kachori
Nisha Madhulika
Rating:

5.00

out of

5