Atta Namakpare | Wheat Flour Namakpare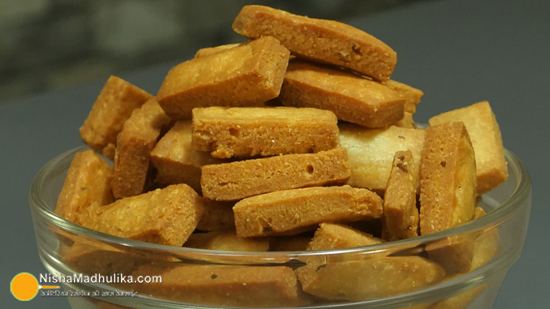 Atta Namakpare is a recipe of Indian snack which is also considered a salty cookie made up of frying procedure. Serving it along with tea as a snack helps to increase its taste.
Ingredients for Atta Namakpare
Wheat flour - 2 cups (300 gms)

Ghee - 4 tbsp (75 gms)

Cumin seeds - 1.5 tsp

Salt - ¾ tsp

Oil - for frying
How to make Atta Namakpare
Take 2 cups of wheat flour in a bowl and add a ¾ teaspoon of salt to it. Add 1.5 teaspoons of cumin seeds, 6 tablespoons of clarified butter to it. Mix all the ingredients well.
Add a ½ cup and 2 tablespoons of lukewarm water to it in the intervals and knead its stiff dough. After kneading the dough, cover and keep it aside for 15-20 minutes to set. The dough has set after 25 minutes, mash the dough to make it smooth.
Divide the dough into two equal halves and roll it into a round-shaped lump. Place it on the board and press it using your hands to flatten it. Flatten the dough lump thinly but, not too thinly. Chop it vertically into square-shaped pieces.
Chop it into the 0.5 to 0.75 inches of strips. Remove the uneven parts and separate them. Preheat oil to fry it and prepare the Namakpare from remaining dough likewise. Join the cutting along with another dough lump.
The lesser heated oil is required to fry the Namakpare. Add the Namakpare to fry on a medium flame for 3 to 4 minutes. The Namakpare are floating on the surface and they have fried after 4-5 minutes.
Fry until it becomes golden brown from all the sides on low-medium flame. Drain it out after it becomes brown and fry all the Namakpare likewise. Wheat flour Namakpare is ready to be served. Store it in an airtight container and consume for 1 to 2 months.
आटे के नमक पारे - एकदम कुरकुरे और कुकीज जैसे सॉफ्ट । Atta Namak Pare Recipe

Tags
Categories
Atta Namakpare | Wheat Flour Namakpare
Nisha Madhulika
Rating:

5.00

out of

5