Chhena Poda Recipe | Chhena Poda in pressure cooker
Chenna Poda is a sweet dish of Orissa which is scrumptious to eat. It has a crispy crust and juicy filling which make it's every bite heavenly.
Ingredients for Chenna Poda
Milk (cow or full cream) - 1.5 litres

Lemon - 3

Sugar - ¾ cup (150 grams)

Semolina - 3 tbsp (40 grams)

Ghee - 2 tbsp

Raisins - ¼ cup

Cashews - ¼ cup

Cardamoms - 4
How to make chenna Poda
For Chenna
Take 1.5 litres of cow's milk and boil it. Chop a ¼ cup of cashews to it. Take 4 green cardamoms, peel and grind them coarsely ground. Take 3 medium-sized lemons, chop them and extract their pulp. Switch off the flame after boiling the milk.
Mix some water to lemon juice and add it to the milk in intervals. Stir and mix well until whey water separates from it. Filter and strain the Chenna separately. Mash the Chenna well to make it soft.
Add 3 tablespoons of semolina and a ¼ cup of sugar to it. Stir and mix them well. Keep it aside for 15 minutes to ferment. It has fermented after 15 minutes, mix 2 tablespoons of Ghee and chopped cashews to it.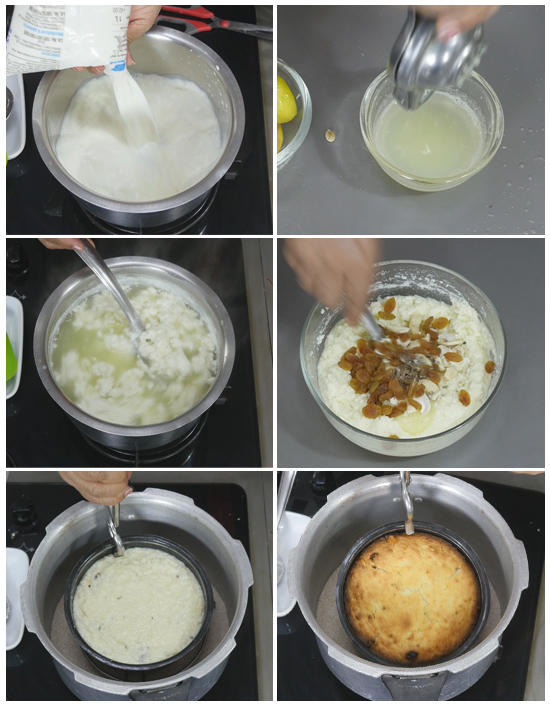 Add a ¼ cup of raisins and cardamom powder to it. Preheat ½ kg of salt in a pressure cooker for 6 to 7 minutes on high flame. Take a container, grease it with Ghee and spread a butter paper over its base.
Spread some Ghee over it too and add the mixture in it. Tap to spread it evenly. Place the container inside the cooker and bake it for 30 minutes on medium flame. Bake it again for 15 minutes on low flame.
After 15minutes, remove it from the container and let it cool down. 55 minutes was acquired to bake it whole. After baking it, remove it from the corners and flip it upside down. Tap, remove it from the container and separate the paper from it. The Chenna Poda is ready to be served.
Chhena Poda Recipe | छेना पोडा - ओडीशा का छेना केक । Chhena Poda in pressure cooker

Tags
Categories
Chhena Poda Recipe | Chhena Poda in pressure cooker
Nisha Madhulika
Rating:

5.00

out of

5