Veg crispy recipe | veg crispy appetizer recipe | Crispy fried vegetables
Veg crispy fry is a recipe of appetizer which is easier to make and perfect to serve the guests. It is made up of varieties of veggies and it is crispier to eat. Cooking it acquires to the lesser amount of time.
Ingredients for veg crispy
Cauliflower (chopped) - 1 cup

Capsicum (chopped) - 1 cup

Baby corn (chopped) - 4 Pcs.

Green chilli (finely chopped) - 2

Potato (chopped) - 1

Refined flour - ½ cup

Cornflour - ¼ cup (20 grams)

Salt - 1 tsp

Green coriander (finely chopped) - 1 to 2 tbsp

Cabbage (finely chopped) - 2 tbsp

Capsicum (finely chopped) - 2 tbsp

Tomato sauce - 2 tbsp

Chilli sauce - 1 tsp

Soya sauce - 1 tsp

Vinegar - 1 tsp

Ginger (paste or grated) - 1 tsp

Black pepper - ½ tsp

Oil - for frying
How to make veg crispy
Take a cup of chopped cauliflower along with a cup of chopped capsicum. Take 4 baby corns and chop them. Take a ½ cup of refined flour in a bowl and add a ¼ cup of cornflour to it.
Add a ½ cup of water to it and stir for a while to make its batter of smooth texture. Add a ½ teaspoon of salt, a ½ teaspoon of freshly crushed black pepper to it. Stir and mix the batter for a while. The batter should have running consistency.
Add the chopped veggies to the batter and mix well until batter coats them well. Preheat oil in a wok and add the veggies to it for frying but, slowly. Fry the veggies while stirring them until they appear golden brown. 5 to 6 minutes will be acquired to fry a round of veggies.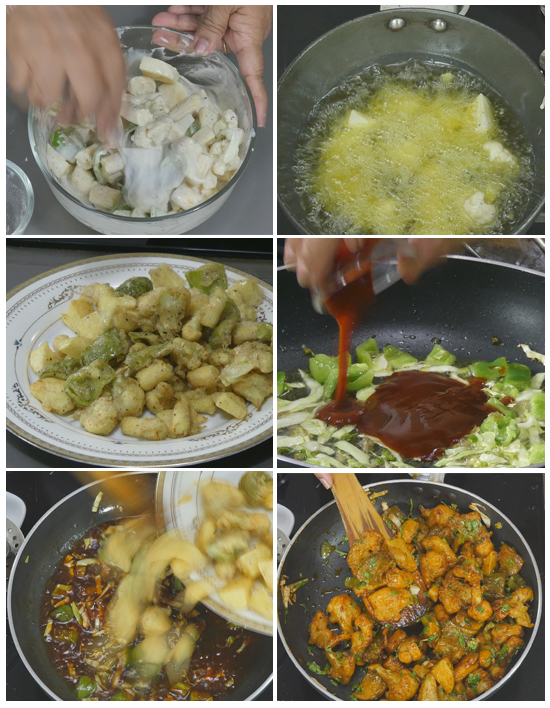 After frying the veggies, drain them out of wok using a ladle and place on a plate. After frying all the veggies, preheat a pan and add 2 tablespoons of oil in it. Add a teaspoon of ginger paste, 2 finely chopped green chillies to it and roast them.
Add 2 to 3 tablespoons of finely chopped cabbage, 2 smaller sized capsicums to it. Roast the veggies for a while on a medium flame for 2 minutes. Add 2 tablespoons of tomato sauce, a teaspoon of red chilli sauce to it.
Add a teaspoon of soya sauce, a teaspoon of vinegar, a ½ teaspoon of salt to it on medium flame. Turn the flame to low and add the fried veggies to it. Stir until sauce coats the veggies well. Add some green coriander to it and mix it well. The veg crispy is ready to be served.
Suggestions
You can add any variety of veggies to it according to your taste such as broccoli or onion.
You can add garlic paste or chopped garlic instead of ginger paste to it.
Veg Crispy Recipe । क्रिस्पी फ्राइड वेजीटेबल्स । Chinese Starters Veg Crispy

Tags
Categories
Veg crispy recipe | veg crispy appetizer recipe | Crispy fried vegetables
Nisha Madhulika
Rating:

5.00

out of

5