Tandoori aloo Recipe | Stuffed Tandoori Potato
It is a recipe which is made up of a special spice which is consist of 10 roasted spices. It is perfect for serving on any occasion.
Ingredients for Stuffed Tandoori Potato
Potatoes - 4 (400 grams)

Cottage cheese - 1 cup (125 grams)

Green coriander - 2 to 3 tbsp

Chickpea flour - 2 tbsp

Hung curd - ½ cup

Ginger baton (finely chopped) - ½ inch

Green chilli (finely chopped) - 2

Cashews - 2 tbsp

Raisins - 1 tbsp

Red chilli powder - 1 tsp

Turmeric powder - ½ tsp

Chaat Masala - 1 tsp

Salt - 1 tsp

Oil - 2 tbsp

Green chilli paste - 1 tsp

Ginger paste - 1 tsp

Lemon slice - 2

Maggi Masala Ae-Magic - 2 packets
How to make Stuffed Tandoori Potato
Take 4 potatoes, peel and wash them. After peeling them, scoop them using a scooper to hollow them. After hollowing them, dip them back into the water and wash them well. After washing them, place them in a manner that the excess amount of water moves out from them. Later on, wash the remaining of potatoes and place them on a towel to dry.
Take some oil in a wok and preheat it. The rightly heated oil is required to fry the potatoes. Add them for frying to the heated oil on medium to high flame and after a while turn the flame to low. Fry potatoes until they become golden brown from all the sides. After frying them, drain them out of the wok using a ladle. Place them aside and fry the remains of potatoes likewise.
For the stuffing
Take a pan, 2 teaspoons of oil in it and preheat it. Add a 1/2 inch of the finely chopped ginger baton, 2 finely chopped green chillies to it on medium flame. Saute them for a while and add 2 tablespoons of finely chopped cashews to it followed by a tablespoon of raisins. Saute all the ingredients to make them crunchy.
Remove them in a separate bowl and add a cup of grated cottage cheese to it. Add a ½ quantity of potato cuttings, a ½ teaspoon of salt, a 1/2 teaspoon of Chaat Masala and a packet of Masala Ae-Magic to it. Mix all the ingredients well and while mixing make sure that you mash all the potato cutting well.
Add a teaspoon of green coriander to it and mix well. Stuff the stuffing inside the fried potatoes using a spoon.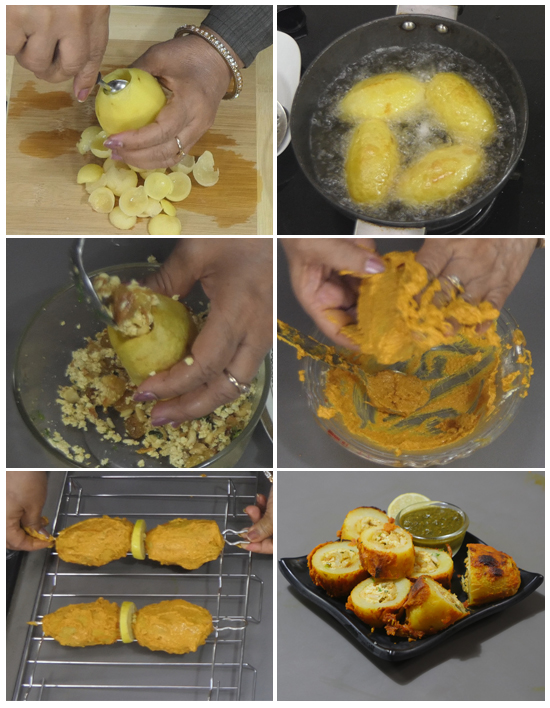 For the marinate
Take a ½ cup of fresh curd, place it in a strainer and drain the water out from it. The hung curd is ready after a while, take a ½ cup of hung curd and add 2 tablespoons of chickpea flour to it. Add a teaspoon of ginger paste, a teaspoon of green chilli paste, a 1/2 teaspoon of turmeric powder, a teaspoon of red chilli powder, a 1/2 teaspoon of Chaat Masala, a 1/2 teaspoon of salt and a packet of Maggi Masala Ae-Magic to it.
Mix it well. After mixing it, the marinade is ready. Add a tablespoon of oil to the marinade and mix it well.
For baking it
Spread marinade over the potatoes evenly and keep them aside for 10 minutes. Assemble the potatoes in a squeezer and place a lemon slice between them. Preheat oven at 200-degree centigrade and after preheating it, place the baking tray in it.
Bake the potatoes at 200-degree centigrade for 15 minutes. The potatoes have baked after 15 minutes and it is ready to be served. Serve it along with coriander or a mint dip.
Suggestions
You can also bake these in a pressure cooker as per the procedure of Naan Khatai
भरवां तन्दूरी आलू । आलू नज़ाकत । Tandoori aloo Recipe | Stuffed Tandoori Potato

Tags
Categories
Tandoori aloo Recipe | Stuffed Tandoori Potato
Nisha Madhulika
Rating:

5.00

out of

5