Crispy Moong Dal Namkeen
Moong Dal Namkeen is a snack which is very light and tastier to eat.
Ingredients for Moong Dal Namkeen
Moong Dal - 1 cup (200 grams)
Baking soda - 1 pinch
Salt - ½ tsp
How to make Moong Dal Namkeen
Take a cup of Moong Dal, clean it, wash it and soak it in the water for 4 hours along with a pinch of baking soda. After 4 hours, remove the excess water from it and spread it on a cotton cloth evenly.
After spreading it, place it beneath a fan and let it dry for half an hour. After half an hour, preheat oil in a wok. After rightly heating it, add the soaked dal in it to fry using a strainer. To fry the dal extremely heated oil is required and the flame should be high too.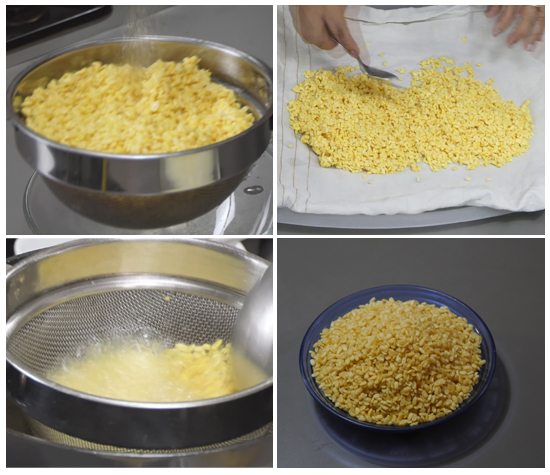 After frying, pour it in a separate plate and fry rest of the Dal likewise. 2.5 to 3 minutes was acquired to fry a single round of Dal. Mix a teaspoon of salt to it and serve it. The Moong Dal Namkeen is ready to be served.
You can store it in an airtight container and consume for 2-3 months.
Suggestions
If you want to have it spicy then along with salt add some chopped green chilli, green coriander and some lime juice.
एकदम कुरकुरी मूंगदाल नमकीन कैसे बनायें ? । Crispy Moong Dal Namkeen

Tags
Categories
Crispy Moong Dal Namkeen
Nisha Madhulika
Rating:

5.00

out of

5