Jackfruit crispy N Spicy Pakora | How to make Jackfruit Pakoras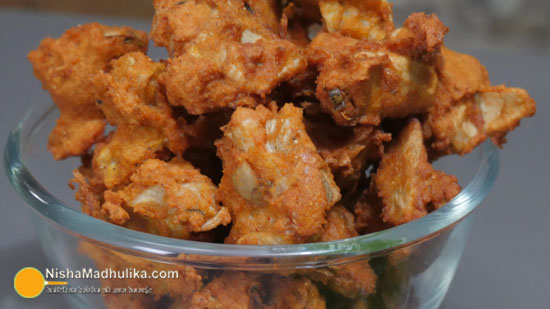 The cutlets made up of jackfruit are soft and scrumptious to eat.
Ingredients for jackfruit cutlets
Raw Jackfruit - 500 gms

Chickpea flour - 1 cup (100 gms)

Rice flour - ½ cup (75 gms)

Green chilli - 2 (finely chopped)

Red chilli powder - 1.5 tsp

Coriander powder - 1.5 tsp

Mango powder - ½ tsp

Garam masala - ½ tsp

Carom seeds - ¼ tsp

Asafoetida - ½ pinch

Salt - 1.5 tsp

Turmeric powder - ½ tsp
How to make jackfruit cutlets
Take 500 grams of peeled jackfruit, wash it and chop it into the smaller sized pieces. After chopping it, add it in a pressure cooker to boil. Add a ½ cup of water in it, a ¾ teaspoon of salt and a ½ pinch of asafoetida to it.
Mix them well, close the lid of cooker and boil until the first whistle blows. After the first whistle has blown, switch off the flame and wait until the pressure from cooker releases. After releasing its pressure, open its lid and drain out the boiled jackfruit using a strainer to remove any excess quantity of water from it.
Preheat oil in a wok on medium flame. Take a cup of chickpea flour in a bowl, add a 3/4 teaspoon of salt and 1 cup of water to it for making the thicker consistency of paste. Continuously stir it to dissolve its lumps.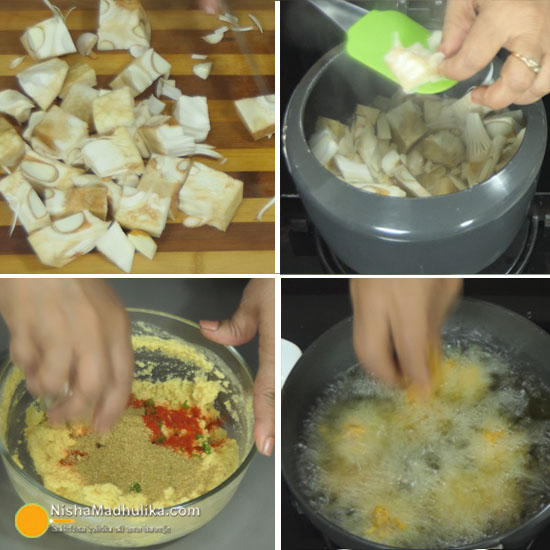 After dissolving its lumps, add 2 finely chopped green chillies, a ¼ teaspoon of crushed carom seeds, a 1.5 teaspoons of red chilli powder, 1.5 teaspoons of coriander powder, a ½ teaspoon of dry mango powder, a ½ teaspoon of Garam Masala to it and mix all the ingredients well.
Add a tablespoon of oil, the boiled jackfruits, a ½ teaspoon of turmeric powder to it and mix well. The batter is ready and the oil has heated too. Add the cutlets to fry in it, the rightly heated oil and medium to high flame is required to fry the cutlets.
Flip and fry the cutlets until they become brown from all the sides. After frying them, drain them out using a strainer and fry rest rounds of the cutlets likewise. 5 to 6 minutes will be utilized to fry a single round of cutlet. You can serve it along with green coriander drip, chilli sauce and tomato sauce.
कटहल के चटपटे और कुरकुरे पकौड़े । Jackfruit crispy N Spicy Pakora | How to make Jackfruit Pakoras
6

Tags
Categories
Jackfruit crispy N Spicy Pakora | How to make Jackfruit Pakoras
Nisha Madhulika
Rating:

5.00

out of

5