Paneer peanut Kachori | Peanut Paneer Kachori | Khasta Peanut Paneer Kachori
The Paneer peanut Kachori is a perfect snack to end the light hunger. It is crispy outside and softer inside
Ingredients for Paneer peanut Kachori
Refined flour - 2 cups (250 gms)

Ghee - ¼ cup

Carom seeds - ½ tsp

Peanuts - ½ cup (100 gms) (roasted, peeled and coarsely ground)

Paneer - ½ cup (100 gms) (grated)

Coriander powder - 1.5 tsp

Fennel seeds - 1.5 tsp

Cumin seeds - 1 tsp

Black pepper - 10 to 12 (crushed)

Cloves - 4

Black cardamom - 1

Green chilli - 3 to 4 (finely chopped)

Red chilli powder - ½ tsp

Ginger - 1 tsp (grated)

Turmeric powder - ¼ tsp

Salt - 1.25 tsp

Asafoetida - ½ pinch

Oil - for frying
How to make Paneer peanut Kachori
For the dough
Take 2 cups refined flour in a bowl, add 2 teaspoons of salt, a ¼ teaspoon of carom seeds after crushing it, a ¼ cup of clarified butter after melting to it. Mix all the ingredients well.
Use a ¾ cup of lukewarm water to knead the soft dough and knead dough similar to the dough of Chappati. After kneading the dough, cover and keep it aside for 15 to 20 minutes to set.
For the stuffing
Preheat a pan to cook the stuffing and add 2 teaspoons of oil in it. Add a ½ pinch of asafoetida, a 1.5 teaspoons of coriander seeds, 1.5 teaspoons of fennel seeds and a teaspoon of coarsely ground cumin seeds in the heated oil.
Add coarsely ground 10-12 black pepper, 4 cloves, 1/2 inch of cinnamon stick and 1 black cardamom after peeling it. Saute the spices for a while. Add 3-4 finely chopped green chillies, 1 teaspoon of grated ginger to it and roast them.
Add a 1/2 cup of grated cottage cheese and roast while stirring it continuously. Add 1/4 teaspoon of turmeric powder, 1/2 teaspoon of red chilli powder and roast the stuffing for 2 minutes to remove the rawness of cottage cheese.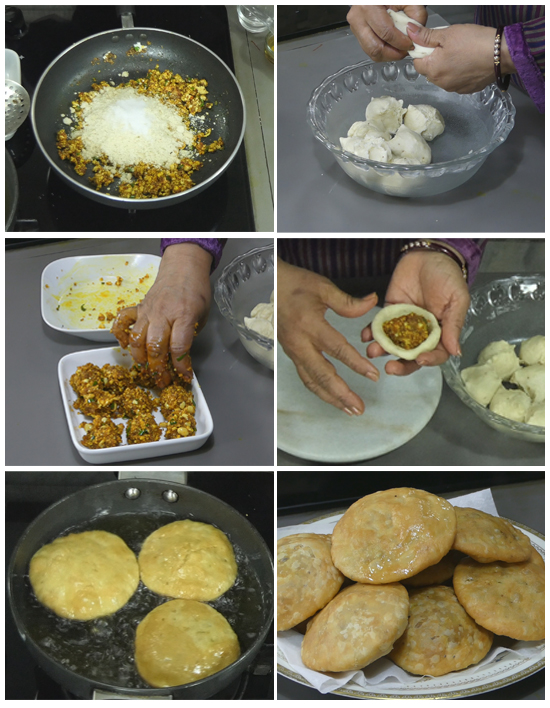 Keep the flame on medium. Add a 1/2 cup of roasted, peeled and coarsely ground peanuts, more than 1/2 teaspoon of salt to it. Stir and roast all the ingredients for 2 minutes. The stuffing has cooked after 2 minutes.
For the Kachori
The dough has set after 20 minutes so we will divide the dough into lumps. Mash the dough softly and divide it into 10 equal lumps. Divide the stuffing into 10 equal portions too. Lift some stuffing and bind it into the round shaped ball.
Preheat oil on low flame to fry the Kachoris. To stuff it, take a dough lump and roll it. Press to flatten it and hollow it using your fingers to fill the stuffing. Place some stuffing over it and press the stuffing using your thumb.
Expand the dough upwards using another hand and combine the dough to seal the stuffing. Press to flatten it and stuff the rest of Kachoris likewise. The less heated oil is required to fry Kachoris.
Take a stuffed dough lump, place it on the board. Flatten it by applying the lesser amount of pressure to it and press it using your palms. Press Kachori to flatten it from all the corner to make it thinner.
Add Kachori in the heated oil to fry and fry till it appears golden brown from both the sides. Do not turn the flame to medium, keep it low only. Drain it out after frying from both the sides. The hot and crispy Kachori is ready to be served.
You can serve it with green coriander dip or with tea. You can also store and consume it for 3 to 4 days.
Suggestions
You can use the ginger paste instead of grated ginger.
You can increase or decrease the quantity of salt according to your taste.
Peanut Khasta Kachori | कुरकुरी खस्ता मूंगफली पनीर की कचौरी । khasta kachori banane ki vidhi

Tags
Categories
Paneer peanut Kachori | Peanut Paneer Kachori | Khasta Peanut Paneer Kachori
Nisha Madhulika
Rating:

5.00

out of

5