Veg biryani recipe | Veg Dum Matka Biryani in Traditional Clay Pot
It is a special recipe made using an authentic utensil and a traditional method.
Ingredients for Veg Matka Briyani
Red chilli powder - ½ tsp

Garam Masala - ½ tsp

Ginger paste - ½ tsp

Black cardamom - 1

Turmeric powder - ¼ tsp

Green chillies - 2 (chopped)

Salt - more than 1 tsp or to taste

French beans - ½ cup (chopped)

Cauliflower - ½ cup (chopped)

Capsicum - ½ cup (chopped)

Peeled potatoes - 1 (chopped)

Basmati rice - ¾ cup (150 gms) (soaked)

Ghee - 4 to 5 tbsp

Curd - ½ cup

Cashew nuts - 7 to 8

Green coriander - 3 to 4 tbsp (finely chopped)

Fresh mint leaves - 2 to 3 tbsp (finely chopped)

Kesar milk - 2 tbsp milk + 15 to 20 saffron strands

Bay leaves - 2 to 3

Cinnamon stick - 1 inch

Green cardamoms - 2

Cloves - 4

Black pepper - 7 to 8

Coriander powder - 1 tsp

Cumin seeds - 1 tsp
How to make Veg Matka Briyani
Take a ¾ cup of Basmati rice, clean it, wash it and soak in the water for half an hour. Take a vessel to boil it, add 3 to 4 cups of water in it and heat it. Add 2 to 3 bay leaves, 1 inch of cinnamon stick, 2 green cardamoms after crushing it, 4 cloves and 6 to 7 black pepper, a teaspoon of clarified butter, a ½ teaspoon of salt and boil it.
In the meantime, we will mix the spices in the veggies. Add a 1/2 cup of finely chopped french beans, a peeled and finely chopped potato, a 1/2 cup of finely chopped cauliflower, a 1/2 cup of finely chopped capsicum, a 1/2 cup of curd, 1/4 teaspoon of turmeric powder, a 1/2 teaspoon of red chilli powder to it.
Add a teaspoon of coriander powder, a 1/4 teaspoon of Garam Masala, more than 1/2 teaspoon of salt and mix all the ingredients well. Keep it aside for a while so that they absorb spices well. The water has boiled, remove the extra water from the soaked rice and add it in the boiling water.
Cook the rice 80% for 6 minutes. Stir the rice using a strainer and preheat a pan. Add 2 to 3 tablespoons of clarified butter in it and heat it. Add 7 to 8 cashews and roast until they become golden brown. After roasting the cashews, add a teaspoon of cumin seeds to it and saute it.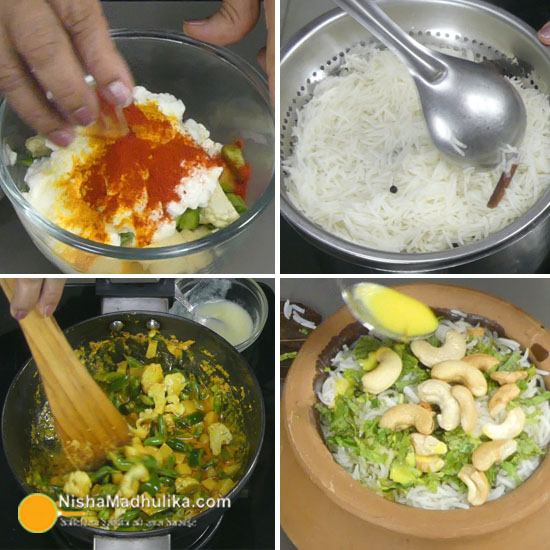 After sauteeing it, add a ½ teaspoon of ginger paste, 2 finely chopped green chillies, black cardamom after peeling it. Add the marinated veggies in Masala mixture and cook while stirring them continuously. Cook it on high flame and cook while stirring until it boils.
Cover and cook the veggies on low flame for 3 to 4 minutes. Press the veggies to check after 4 minutes. Again, cook while covering it for 2 minutes. Add 2 tablespoons of water and cook for a while. Take a mud pot and grease it with clarified butter.
Add a ½ layer of cooked veggies and a ½ layer of semi-cooked rice. Again, repeat the procedure likewise thrice. Add finely chopped green coriander, finely chopped fresh mint leaves, the layers of cooked rice and garnish with finely chopped green coriander or fresh mint leaves.
Spread the roasted cashews and saffron milk over it. Garnish with clarified butter and Garam Masala. Seal it properly with the kneaded dough and cook on low flame for 20-25 minutes. After 25 minutes, the Biryani has steamed cooked. Keep it aside to set for 10 minutes to cool down and after cooling it, serve it.
Suggestions
You can increase or decrease the quantity of red chilli powder according to your taste.
You can add the onion after roasting it for a while until light pink in colour.
Veg biryani recipe | मटका वेज बिरयानी रेसीपी । Veg Dum Matka Biryani in Traditional Clay Pot

Tags
Categories
Veg biryani recipe | Veg Dum Matka Biryani in Traditional Clay Pot
Nisha Madhulika
Rating:

5.00

out of

5