Eggless Brownie Recipe in Cooker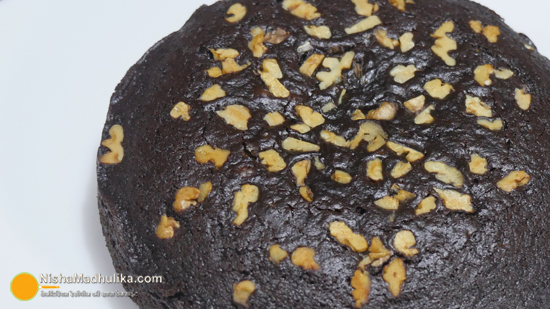 The brownie is a perfect munching for all the sweet lovers.
Ingredients for brownie
Refined flour - 1 cup (125 gms)

Sugar powder - 1.5 cups (225 gms)

Cocoa powder - ½ cup (40 gms)

Olive oil - ½ cup (100 gms)

Milk - ¾ cup

Vanilla essence - ½ tsp

Baking powder - 1 tsp

Walnut (chopped) - 1 to 2 tbsp

Oil - for greasing

Salt - 2 cups (for baking)
How to make the brownie
Add 2 cups of salt in a cooker and place a stand over it. Remove its whistle and gasket. Close lid of the cooker and preheat it on the high flame. In the meantime, make the batter for it.
Add a cup if refined flour in a bowl, add 1.5 cups of sugar powder, a ½ cup of cocoa powder and mix all the ingredients using a strainer while filtering it. Add a teaspoon of baking powder and mix all the ingredients well.
Stir to dissolve all the lumps from it and add a ½ teaspoon of vanilla essence to it. Add ¾ cup of milk in the intervals and mix it well. The batter is ready and it should have the pouring consistency.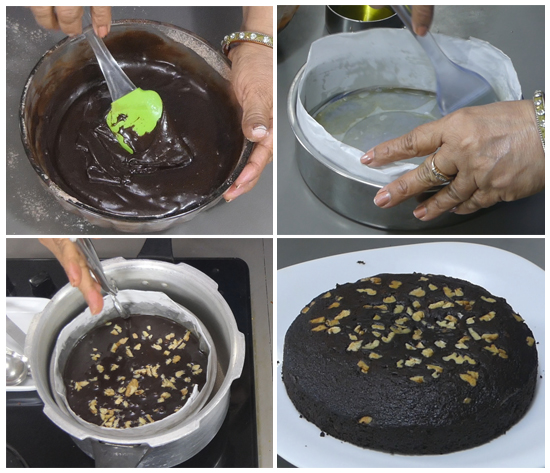 Grease a container with some oil and place a butter paper in it. Grease the paper too and add the batter in the container. Tap the container to remove the bubbles from it. Garnish it with chopped walnuts and add place the brownie in the cooker to bake.
Close lid of the cooker and cook for 50 minutes from the low to medium flame. Insert a needle to check the brownie after 50 minutes. The batter is not sticking to it because it has cooked. The brownie has baked, let it rest to cool down for a while after removing from the cooker.
Separate the brownie from the corners and flip it over a plate. Remove it and separate its paper from the bottom. Tap it well and remove the brownie. The brownie is ready to be served. Chop into your desired shape and serve it.
Eggless Brownie Recipe in Cooker | कुकर में ब्राउनी बनाने की आसान विधि - कोको पाउडर से

Tags
Categories
Eggless Brownie Recipe in Cooker
Nisha Madhulika
Rating:

5.00

out of

5