Quick Chole masala Kadai Chole । Kabuli Chana Masala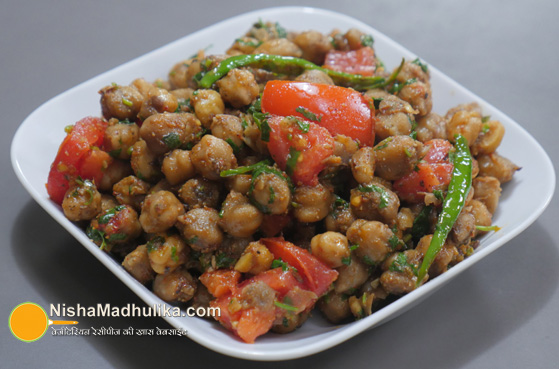 This recipe helps to end your hunger instantly. It is very easy and quick to prepare.
Ingredients for Kadai Chole
White Grain - 1 cup (200 gms)

Tomato - 2 (150 gms)

Green Coriander - 2 to 3 tbsp (finely chopped)

Carom Seeds - ¼ tsp

Cumin Seeds - ¼ tsp

Green chilli - 5 (finely and vertically chopped)

Ginger julienne - ½ inch

Red Chilli Powder - ½ tsp

Baking Soda - ⅛ tsp

Coriander Powder - 1 tsp

Mango Powder - ¼ tsp

Garam Masala - ¼ tsp

Salt - 1 Tsp

Clarified Butter - 2 tbsp
How to make Kadai Chole
Take 200 gms of chickpeas in a bowl, soak it in the water for 7-8 hours or for overnight.
After soaking it, drain out water from it. Add it in the pressure to boil along with 1/2 cup of water, 1/2 teaspoon of Salt and ¼ teaspoon of baking soda. Mix all the ingredients properly.
Add 1 tea bag to it and close the lid of the cooker. Boil till the first whistle blows. Switch off the flame after the first whistle has blown. Wait until all the pressure releases from the cooker.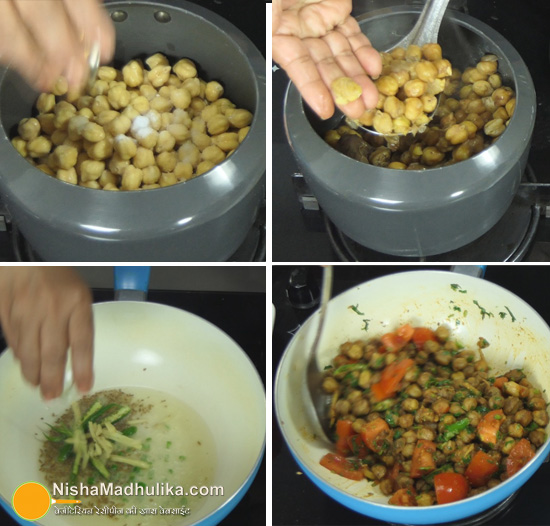 Open the lid of the cooker and mash the boiled chickpeas to check them. Chickpeas have properly boiled. Remove the tea bag from it and drain out the boiled chickpeas using a strainer to remove extra water.
Preheat a pan to cook Kadai Chole. Add 2 tablespoons of clarified butter to it and melt it. The clarified butter has heated so turn off the flame. Add 1/4 teaspoon of Cumin Seeds, 1/4 teaspoon of carom seeds to it. Switch off the flame. Add 2 finely chopped Green Chillies, 2 to 3 vertically chopped green chillies along, 1/2 inch ginger julienne to it and 1/2 teaspoon of salt to it.
Add 1/2 teaspoon of red chilli powder, 1 teaspoon of Coriander powder, 1/4 teaspoon of Garam Masala, 1/4 teaspoon of mango powder, 1.5 chopped tomatoes, some finely chopped coriander and mix all the ingredients. The Kadai chole has ready to be served. You can serve them with Poori, Paratha or eat them individually.
Suggestions
You can use tea leaves after tieing them in a cotton cloth instead of a tea bag or tie some dry gooseberries in a cotton cloth and use it.
You can use pomegranate seeds instead of mango powder.
If you like onion then, you can add it after chopping.
Quick Chole masala Kadai Chole | बिना ग्रेवी वाले कढाही छोले मसाला । Kabuli Chana Masala

Tags
Categories
Quick Chole masala Kadai Chole । Kabuli Chana Masala
Nisha Madhulika
Rating:

5.00

out of

5