Sabudana Kurure Namkeen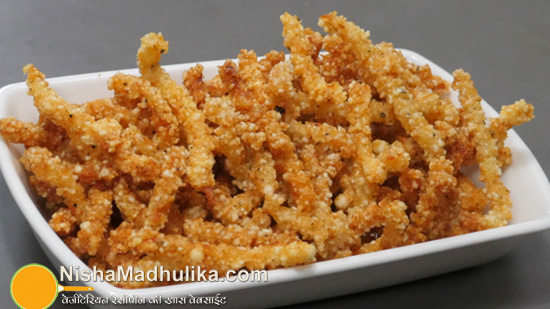 Sabudana kurkure are the snacks which are very tasty and requires the very less amount of ingredients.
Ingredients for Sabudana Kurure Namkeen
Boiled potatoes- 4 (300 gms)
Sago pearls- ½ cup (80 gms)
Black pepper- 1 tsp
Salt- ½ tsp
Oil- for frying
How to make Sabudana Kurure Namkeen
To prepare the sabudana kurkure to soak the sago pearls(sabudana) and grind them. For the grinding process add ½ cup of soaked sago pearls in the jar and add 1 tsp of black pepper in it, add ½ tsp of salt. Grind these ingredients coarsely grounded to prepare them.
Take the 4 boiled potatoes and peel them. After peeling them grate them and add the grinded sago pearls mixture in them. Add 1 tsp of oil to it and mix them well. Cover the dough and leave it aside for the 15-20 minutes to let it set.
After the 20 minutes take the machine and fix the plate in it with the larger sized holes. Apply some oil on your hands and give a vertical shape to the dough. Put the dough in the machine and cover the remaining dough.


Pre-Heat the oil in the wok and add some dough in the oil to check its temperature. To fry the oil moderately heated oil is required and the flame should be medium-high. Make sure flame is not extremely high.

Start adding the dough in the pan using the machine to fry the kurkure. Press the machine over the wok and break them with hands if required. Add the kurkure to fry in the wok at a distance so that they do not stick. Fry them for a while on the low-medium flame. When the foam in the oil starts reducing, stir the kurkures in the wok. Fry the kurkures until they are golden brown on the medium flame.

Take out the kurkure from the wok when they are well golden brown in colour. While removing them keep the ladle on the edge of the wok so that extra oil moves back in the wok. It acquires 5 minutes to fry the one time of sabudana kurkure. Place the fried kurkures on the plate.
Your crunchy and tasty sabudana kurkure would be ready. Store them in a container and this kurkure can be consumed for a whole month.
Suggestions
Add sendha salt instead of normal salt if you prepare these for the fasting.
Add 1 tsp of hard pepper or if you are taking grinded black pepper then use only ½ tsp of it.
Fry the kurkures on the medium flame otherwise they will burn.
Sabudana Kurure Namkeen |साबूदाना कुरकुरे नमकीन वेफर्स - झटपट बनने वाले

Tags
Categories
Sabudana Kurure Namkeen
Nisha Madhulika
Rating:

5.00

out of

5