Masala Boondi Recipe | How To Make Masala Boondi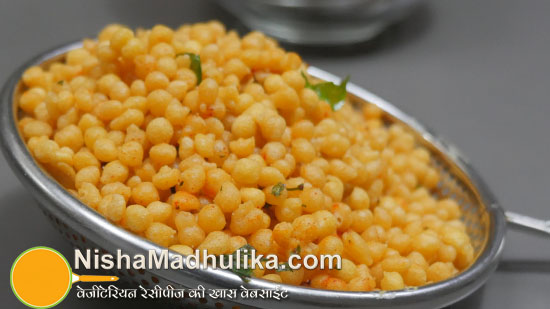 You can add boondi to Raita, curry and Jaljeera. You can make it at home very easily within a few minutes.
Ingredients for Masala Boondi Recipe :
Chickpea flour - 1 cup ( 125 gms)
Oil - 1 tbsp
Curry Leaves - 15 to 20
Salt - 1/4 tsp or to taste
Red chili powder - 1/4 tsp
Oil - for frying
How to make Masala Boondi :
Take chickpea flour in the bowl.Add some water ,stir till lumps dissolve. ( add water in small portions, else it will be inconvenient to dissolve the lumps) Then add water and make it a bit thin. Add 1 tbsp oil to it. Whisk batter for 4 to 5 minutes. When batter is of pourung consistency, Keep batter aside for 10 minutes.

After 10 minutes, Meanwhile stir the batter once. Heat oil to fry the boondi. Check oil. Pour batter on the jhaara / slotted laddle , slightly tap and drop as much as fits in the wok.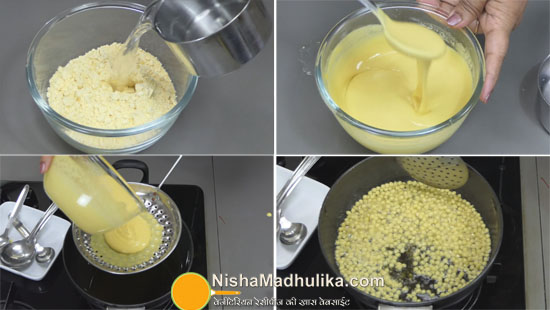 Slightly stir the boondi fry until golden brown. Prepare all likewise. Once crisp, take out with seive keep on a tissue.
For tempering,
Heat tadka pan, add oil, put curry leaves, roast them until crisp. Take out, keep to cool.Then crush the fried curry leaves and add salt and red chili powder, add more spices if desired. Namkeen Masala Boondi is ready.As it cools keep it in an air tight container. You can use it for over 6 months.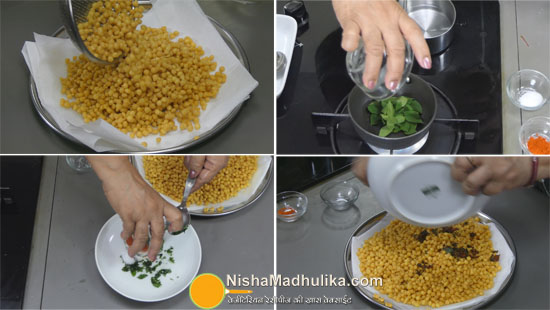 As the Boondi cools completely then keepin an air tight container, if desied you can add spices to it and keep.
Suggestions:
If the Boondi come out long that means the batter is dense, add water and make the batter of the desired consistency.
If the Boondi comes out flat that means the batter is too thin, add some chickpea flour and make it of the right consistency.
To make perfect boondis, the batter should be of pouring consistency and make sure you whisk it well.
The oil should be rightly hot to fry the boondis.
Make sure you fry as much boondi as is fits in the wok.
You can make the boondi more spicy if desired, you can add black pepper powder, roasted cumin powder etc.
Masala Boondi Recipe | मसाला नमकीन बूंदी - टिप्स और ट्रिक्स के साथ | How To Make Masala Boondi

Tags
Categories
Masala Boondi Recipe | How To Make Masala Boondi
Nisha Madhulika
Rating:

5.00

out of

5