Aloo Tuk । Potato Tuk Recipe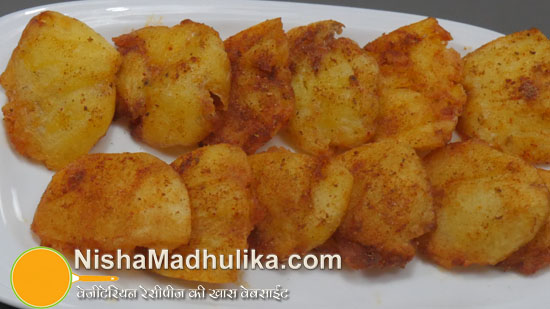 Crispy fried Aloo Tuk snacks. A unique recipe to charm up your platter. Relih it as a asnack with or without tea , it tastes sumptuous.
Ingredients for Potato Tuk Recipe:
Peeled potatoe- 5 ( 400 gms )
Salt - 1/4 tsp or to taste
Red chili powder - 1/2 tsp
Roasted cumin powder - 1/2 tsp
Chaat Masala - 1 tsp
Oil - for frying
How to Make Potato Tuk :
Take 4 some medium sized peeled raw potatoes. Cut the potatoes into halves, then into 4 pieces.
Heat oil in a wok to fry the potatoes. Wipe the potatoes pieces, then put in oil, Cook potatoes on medium flame and medium hot oil. Stir at regular intervals. Mean while check if the potatoes are thoroughly cooked. Once fried well inside out, take them out. Keep potatoes to cool for 5 to 6 minutes. Once potatoes are cooled down, Keep each potato piece on the wooden board, press and flatten them.
To fry the potatoes again
Heat wok again, fry these potatoes again in very hot oil. Once brown, flip it and fry till crispy. Then take them out. Fry all the potatoes likewise. It takes 6 to 7 minutes to fry the potatoes once.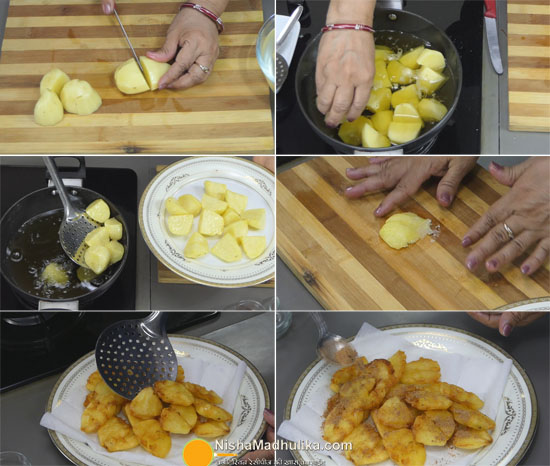 For making spices mix to sprinkle over them take Chaat Masala, red chili powder, roasted cumin powder and salt. Mix the spices well in a bowl. Sprinkle over Potato Tuk.
Enjoy this Tempting recipe of Potato Tuk as snack. You can serve it along with tea, coffee, sauce or chutney.
Suggestions:
When frying the potatoes for the first time, make sure the oil is medium hot else in high hot oil the tuk will be undercooked from the inside.
When frying the potatoes for the second time the oil should be high hot, else if fried in medium hot oil, they will absorb much of oil.
If you do not like much of spices then you can just add chaat masala.
Aloo Tuk | झटपट बनने वाले खास क्रिस्पी फ्रायड आलू टुक । Potato Tuk Recipe

Tags
Categories
Aloo Tuk । Potato Tuk Recipe
Nisha Madhulika
Rating:

5.00

out of

5