Cheese Corn Momos । Steamed Momos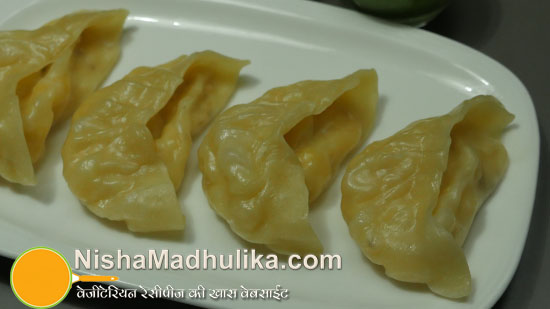 Make Mouth drooling Corn Cheese Momos at home with chutney or sauce. Kids as well as elders will relish eating it.
Ingredients for Cheese Corn Momos:
Refined flour - 1 cup ( 125 gms)
Sweet corn - 1 cup
Processed cheese - 4 cubes
Oil - 2 tsp
Black pepper - 1/4 tsp ( 10 ) ( coarsely ground)
Salt - 1/2 tsp or to taste
How to make Corn Cheese Momos:
Take some Refined flour in a mixing bowl, add 1/4 tsp salt add water in small portions and knead soft dough. Grease your palm with some oil, and squash and smoothen the dough. A little more than 1/4 cup water is used to knead the dough.
Cover and keep the dough aside for 15 to 20 minutes to set.
For stuffing
take sweetcorn kernels washed well in water.Then add water to a vessel , cover it so that it boils quickly.
Add the sweet corn to the boiling water, partially cover them and let boil for 5 minutes. Meanwhile grate the processed cheese.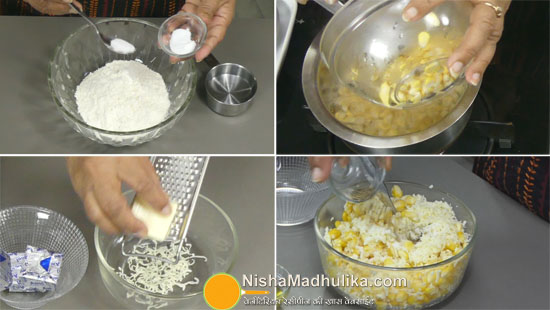 After 5 minutes, sweet corn is boiled. Turn off flame. Take the sweet corn out from water. Let the corn cool down completely.
As it cools mix it with cheese. For spices add 1/4 tsp salt, 1/4 tsp coarsely ground black pepper, Mix all the ingredients well. Stuffing for momos is ready.
Making Momos
Dough is ready. Grease your palm with some oil. Smoothen the dough. Make log and break small dough lumps. Cover the lumps to prevent them from drying up. Lift a dough lump, make ball, give peda like shape, coat with dry flour. Roll it out thin in 3 to 4 inch in diameter.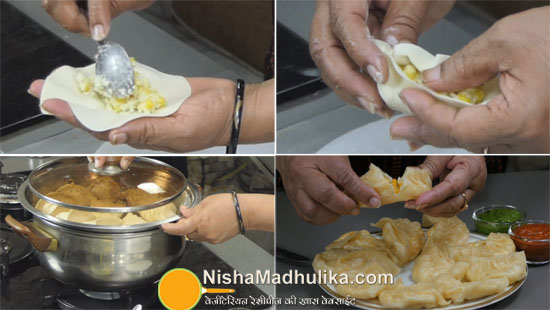 Lift the rolled sheet on hand, Keep it such, so that the lower part of sheet is above. Put 2 tsp stuffing in it. To fold, both the edges lift and make pleats at distance as displayed. Stick the pleats well. Stuff and prepare all momos likewise.
To steam the momos
Keep water to heat up. Grease the colander with oil, arrange the momos in it at distance. When water boils well, put the colander over the water. Cover and cook it for 10 minutes, Keep the flame medium high.
After 10 minutes, momos are cooked and ready. Turn off flame. Take out jali stand, put to cool. 15 to 16 momoms can be made with this quantity of ingredients.
Steaming hot momos are tready to be relished, You can serve it with green coriander chutney, or spicy red chutney.


Cheese Corn Momos | चीज कार्न मोमोज झटपट और आसानी से बनाईये । Steamed Momos

Tags
Categories
Cheese Corn Momos । Steamed Momos
Nisha Madhulika
Rating:

5.00

out of

5