Instant Rava Dhokla। Suji ka Dhokla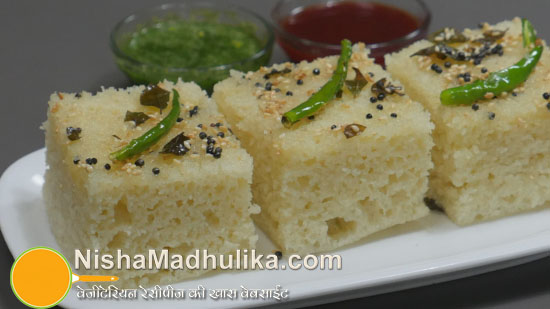 Made with an amazing mix of semolina and curd, it is a tasty and healthy alternative for breakfast.
Ingredients for Instant Rava Dhokla:
Semolina - 1 cup (200 gms)
Whisked curd with 1/2 ginger paste & 1 green chili - 1 cup
Eno fruit Salt - 1 tsp
Salt - 3/4 tsp or to taste
Sugar - 3/4 tsp (optional)
Oil - 2 tbsp
Black Mustard Seeds - 1/2 tsp
Sesame seeds - 1 tsp
Curry leaves - 10 to 12
Green chilies - 2
How to make Rava Dhokla :
Take fine semolina, curd whisked with green chili paste and ginger paste, in a mixer. Add semolina and mix it well. If batter seems dense add water. Keep for 10 minutes for semolina to puff up.
Keep water to boil, in a vessel, Put a Jali stand inside it, Turn on flame. Cover it up so that the water boils quickly.
After 10 minutes As the batter puffs up, add salt, powdered sugar. Mix it well. Add Eno fruit salt. Pour 1 tsp water over it. Mix it well. As soon as there are bubbles stop whisking the batter.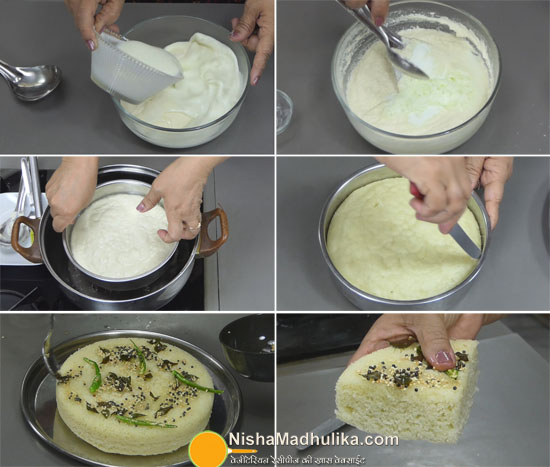 Take a container for making dhokla, grease with oil, Put the batter in it, tap and make it even.
Check if the water in the container is boiling. As water boils, put the Dhokla container in water, cover and cook it for 20 minutes, then check dhokla. to check if it is ready , poke thedhokla with a knife, if the knife comes out clean the dhokla is ready. Turn off flame.
When ready, take out the container, keep on Jali stand to cool. Once cooled off, take out with help of knife then keep on plate.
For tempering
Heat tadka pan, put oil then add black mustard seeds, curry leaves, sesame seeds and green chilies. Put tadka over dhokla.

Soft and Spongy Rava Dhokla is ready. Serve dhokla with Peanut chutney, coconut chutney, or any of your favorite chutney and enjoy the snack.
Suggestions:
The batter for dhokla should neither be too thick nor too thin.
When there is too much steam forming in the vessel then reduce fkame to medium and cook dhokla on medium flame for 2 minutes.
Do not whisk the batter too much after adding the eno,if done so the air bubbles will escape and the dhokla will not turn out good.
Sugar is optional , you can skip it.
Instant Rava Dhokla | एकदम फूला फूला सूजी का ढोकला झटपट बनायें । Suji ka Dhokla

Tags
Categories
Instant Rava Dhokla। Suji ka Dhokla
Nisha Madhulika
Rating:

5.00

out of

5