Nankhatai in pressure cooker । Nan Khatai on Gas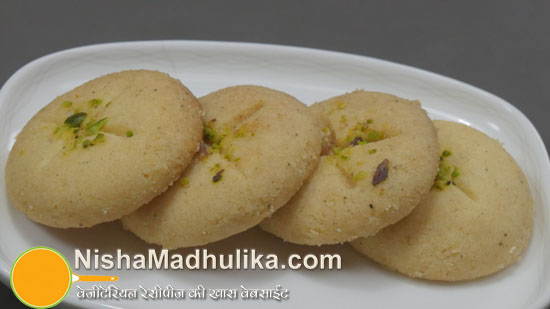 It is very easy to make Nankhatai in cooker, it tastes as delicious as that made in the oven.
Ingredients for Nankhatai in Pressure cooker:
Refined Flour - 1 cup ( 125 grams)
Chickpea flour - 2 tbsp (15 gms)
Semolina - 2 tbsp (15 gms)
Sugar powder - 3/4 cup (125 gms)
Ghee - more than 1/2 cup (125 gms)
Baking powder - 1 tsp
Green Cardamom - 1/2 tsp (powder)
Pistachios - 5 to 6 (grated)
Salt - 1/2 kg (used)
How to make Nankhatai in Cooker:
To make dough take refined flour, semolina and chickpea flour. Mix all ingredients well.
In a mixing bowl add ghee, powdered sugar. Whisk well till it is puffy and dense in consistency too. Add baking powder, cardamom powder to it. Mix all well. Now add refined flour, semolina and chickpea flour mix and make dough.

Knead the dough well, if it seems to be dry then add 1 to 2 tsp of milk to it.
Keep the cooker to heat up. Add 1/2 kg salt in the cooker. Put the jali stand over it.Cover it and let the cooker heat up well.
To make Nan Khatai take a plate that fits in the cooker. Grease the plate with a little ghee.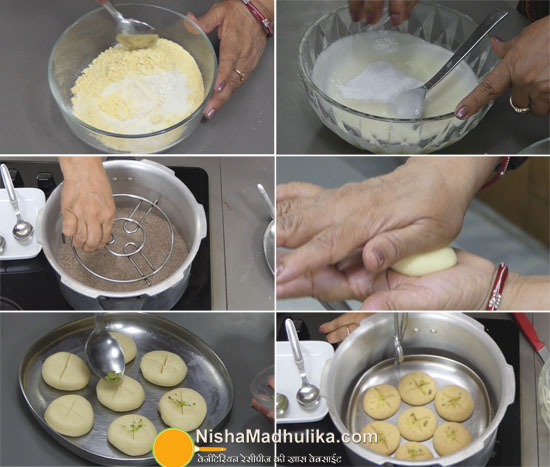 Take out a little dough, Make it round then press lightly and give desired shape. Arrange in plate at distance.
Mark a cross on the Nan khatai with a knife. Add some grated pistachios over it.
As the Cooker is heated well within 7 to 8 minutes . As it is heated up keep the Nan Khatai filled plate in the cooker. Cover and bake it on medium flame for 10 minutes.
After 10 minutes, check the Nankhatai, if it is puffy and roasted. Close the cooker again and keep flame high till it seems brown from above.
Once baked and ready, take out the plate from the cooker carefully,prepare the next batch and rest of Nankhatai likewise.
Once baked keep to cool. As Nan Khatai cools, keep in an air tight container,and relish it for over a month.It takes 12 to 15 minutes to bake the Nankhatai.
Suggestions :
You can take butter or refined oil instead, for making the Nan khatai.
It the mix seems dry then add 1 to 2 tsp of milk to it.
You can use almonds instead of pistachios.
We have made Nan khatai by mixing, refined flour, semolina and chickpea flour, you can alter the ratio as desired.
For baking the Nan khatai make sure the flame is medium and high, do not keep the flame too high, else it might burn.
Bake the Nan kahtai on medium flame for 10 minutes, then check it, it is it not yet roasted then bake it slightly till ready.
Nankhatai in pressure cooker | नानखताई कुकर में बनायें । Nan Khatai on Gas

Tags
Categories
Nankhatai in pressure cooker । Nan Khatai on Gas
Nisha Madhulika
Rating:

5.00

out of

5