Vattayappam Recipe - Vatta Appam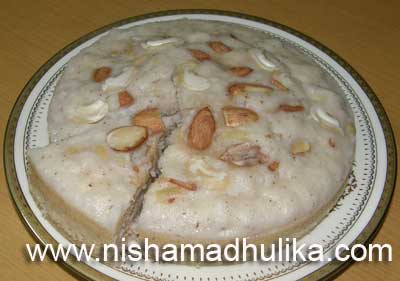 If oily food is restricted for you, then make this delicious Vatta Appam. There is a little similarity to the way dhokla is prepared.
But instead of besan, rice is used. We also mix sugar in this. Let's make Vatta Appam.
इस पोस्ट को हिन्दी में पढ़ें
वाटे अप्पम
Ingredients for Vatta Appam
Rice – one cup
Sooji – one big spoon
Khameer granules – ¼ small spoon
Sugar – 2 big spoons
Coconut – 1
Salt - ¼ small spoon
Cashew, Raisin, Almonds – 4 each
How to make Vattayappam
Soak the rice for 3 hours. Grind them finely in a grinder.
Mix sooji with one cup of water and cook for 5 minutes. Let it cool.
Mix in a small bowl half spoon sugar, Khameer granules, and one big spoon of lukewarm water.
Now add grinded rice, and boiled sooji and mix them properly in the bowl. Keep this bowl aside for 8 hours, for fermentation.
Grind the coconut and sugar into a fine paste and mix this into the fermented mixture. The mixture for Vatta Appam is now ready.
Put 2 glasses of water in the cooker and put it on the burner. Put little ghee on cooker's separator. Spread the mixture on the separator. The thickness of the spread should be about 1 inch. Garnish the spread with small cut pieces of cashews and almonds. Put the separator in the cooker in such a way that it doesn't touch the cooker's bottom. Close the cooker but do not put the whistle piece on it. It will take 15 minutes of cooking. Poke the knife's point in the Vatta Appam to see if it's properly cooked. If it's cooked properly the mixture won't stick to the knife.
Take out the separator from the cooker. And after cooling for 2 to 3 minutes, take it out in a plate with the help of the knife. Your Vatta Appam are ready now.

Tags
Categories
Vattayappam Recipe - Vatta Appam
Nisha Madhulika
Rating:

5.00

out of

5