Lal Mirch ka Achaar | Stuffed Red Chilli Pickle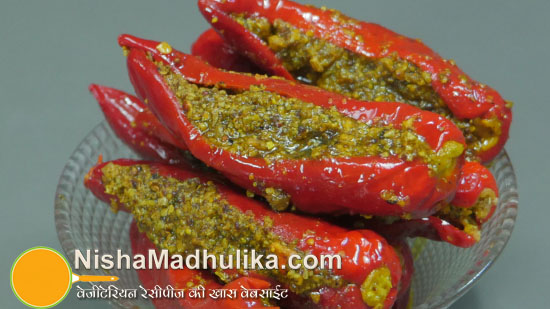 Very Spicy and tempting Red chili pickle made in Banarasi style.
Ingredients for Red chili Lemon pickle
Red chilies - 250 gms
Mustard oil - 1 cup
Lemon - 2
Salt - 3 tbsp or to taste
Black mustard seeds - 4 tbsp (40 gms)
Fennel seeds - 2 tbsp ( 20 gms )
Fenugreek seeds - 2 tbsp ( 20 gms )
Cumin seeds - 2 tbsp ( 15 gms )
Black pepper - 1 tbsp ( 8 gms)
Carom seeds - 1 tbsp ( 5 gms )
Black salt - 1 tbsp ( 10 gms )
Turmeric powder - 1 tbsp ( 7 gms)
Asafoetida - 2 pinch
How to make Red chili Lemon Pickle
Take Red chili, Wash it and dry in sun for 2 to 3 hours.
For spices
Heat a pan and roast whole spices such fennel seeds, fenugreek seeds, cumin seeds, carom seeds, black pepper. Stir and slightly roast the spices for upto 2 minutes. Turn off flame, keep to cool.
Take oil to be added to pickle heat it up well in a pan. Oil has smoked up rightly, turn off flame. Let oil cool.

As the whole spices cool down, add plain salt too,then coarsely grind in mixer jar. Keep grinded spices in plate. Coarsely grind black mustard seeds separately, put over the grinded spices.
Add the rest of the spices such as black salt, turmeric powder, asafoetida, lemon juice in the grinded spices. Add 2 tbsp oil from pan to the pickle and mix it.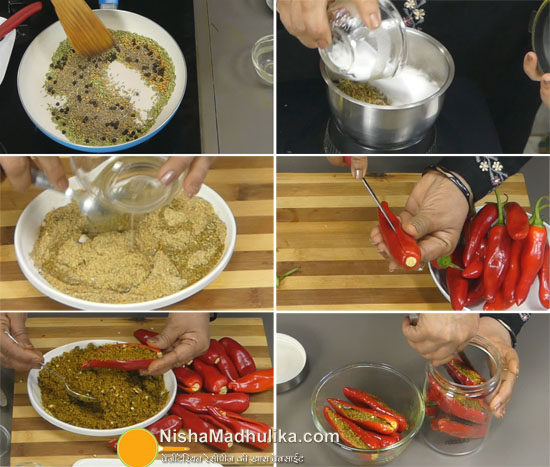 To cut chilies
Remove stalk from chili. Slit the chilies from the centre vertically, take out seeds and pulp from it. Prepare all chilies likewise.Put the seeds from the chili in the spices mix.
To Fill the chili with spice mix
Take chili, open it. Stuff the chili with the prepared spice mix. Press well wityh spoon remove extra stuffing. Keep the stuffed chili in plate. Fill all likewise.

Take out the oil in a bowl. Dip each stuffed chili in oil and take out, keep it in a separate bowl.Fill up the sterilized container with the stuffed chili pickle. Put the leftover spice over the chilies, pour oil over them, then close lid of container.
Red chili pickle is ready. If you want to keep it for 1 month to 1 month and a fornight, close the lid of the container. If there is sunlight,keep it in sunlight for 3 days. It will turn soft, you can also keep it in cupboard or shelve.
After 3 days, the pickle will soak the spices and will be ready to eat. If you want to keep it for a longer duration, then as it settles after being soft after the 3 days time. Then fill the container with hot oil so that the pickle is completely submerged. By making it this way you can relish it for a year.
Suggestion :
Rather than roasting the whole spices, keep it in the sun for 3 to 4 hours.
Make sure the container taken for storing the pickle is sterilized.
Lal Mirch ka Achaar | मोटी लाल मिर्च का बनारसी आचार | Stuffed Red Chilli Pickle

Tags
Categories
Lal Mirch ka Achaar | Stuffed Red Chilli Pickle
Nisha Madhulika
Rating:

5.00

out of

5