Bhavnagari Gathiya । How to make Bhavnagari Gathiya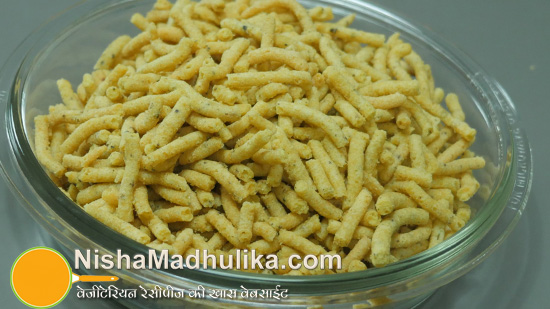 Gathiya with an extended shelf life. Enjoy it anytime as a light snack.
Ingredients for Bhavnagri Gathiya:
Besan - 2 cups ( 250 gms )
Oil - 1/2 cup ( 100 gms ) & for frying
Baking Soda - 1/2 tsp
Black pepper - 1.5 tsp (coarsely ground )
Carom Seeds - 1 tsp
Salt - 1.5 tsp or to taste
Asafoetida - 1 pinch
How to make Bhavnagri Gathiya :
Take chickpea flour in a bowl, heat up some oil. Pour salt and baking soda in oil. Mix well. Pour the hot oil in chickpea flour. Crush with hands and add carom seeds, asafoetida, coarsely ground black pepper. Mix all ingredients well.
Add water to it in small portions. Knead a very soft dough. You can knead the dough with hands or spon as well. 3/4 cup water is used to knead this quantity of dough. Dough is continuously stirred for 10 minutes. Put oil to heat.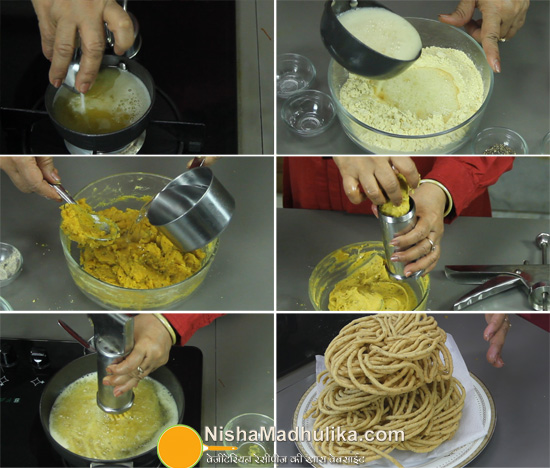 Take thick pored jali ,Fix it in the machine.Grease hands with oil, lift dough, put in machine. Close machine.
Check if oil and flame is medium hot. Press and put the gathiyas to fry. As the foam settles,then flip it. Once fried take it out, keep the gathiyas in a plate. Make all likewise.
Bhavnagri Gathiya are fried and ready. Once cool, break and keep them in an air tight container, relish for 2 to 3 months.

Suggestion :
Do not make the dough as thin as the pakora batter nor very thick. Knead it more soft than the paratha dough.
Make sure that while frying the oil is medium high and flame high.
Bhavnagari Gathiya | भावनगरी गांठिया । How to make Bhavnagari Gathiya

Tags
Categories
Bhavnagari Gathiya । How to make Bhavnagari Gathiya
Nisha Madhulika
Rating:

5.00

out of

5