Roasted & Salted Almonds । Salted and Roasted almonds in a pan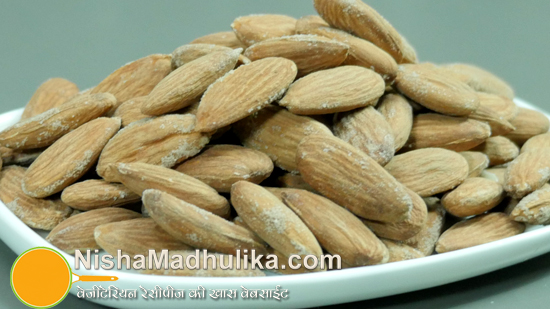 Almonds Roasted in wok are very crispy and tasty. Very special recipe for those who avoid muchuse of oil.

Ingredients for Salted and roasted Almond in Pan
Almonds - 1 cup
Salt - 1/2 tsp
Salt - 2 cups (for roasting)
How to make Roasted and Salted Almonds
Take 1/2 tsp salt in a bowl, add 2 tsp water, mix well till salt dissolves.Pour salty water over almonds.
Take 2 cup salt, put it to a heavy based wok, turn on flame. Stir it at every minute so that the salt heats up.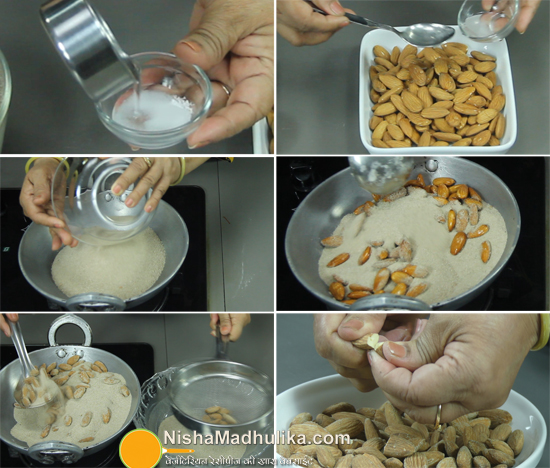 Heat salt for 5 minutes. Also stir almonds to coat salty water well so that water settled at base should come up. When salt is rightly hot,Put the almonds in the salt. Roast almonds by stirring regularly for 3 minutes. Keep flame medium. After 3 minutes when almonds puff up and are roasted, turn off flame, sieve the almonds, remove salt. Place almonds in a plate. Let the almonds cool.
Relish eating nutty and salty Roasted Almonds anytime.When they cool down, put in an air tight container. Have it as a snack or munch on it anytime.
Suggestion :
The salt used for roasting the almonds can be used and re used as for roastig peanuts in base in cakes.
There's a coat of salt over the almonds.If you think it is much then shake it off, or wipe with a cloth,there will be less salt.
Make sure you heat the salt well, then put the almonds.
If you roast almonds too much, they might burn.



Makki ki Roti | Roasted & Salted Almonds | भुने हुये नमकीन बादाम । Salted and Roasted almonds in a pan

Tags
Categories
Roasted & Salted Almonds । Salted and Roasted almonds in a pan
Nisha Madhulika
Rating:

5.00

out of

5