Steamed Poha Recipe | Poha cooked in steam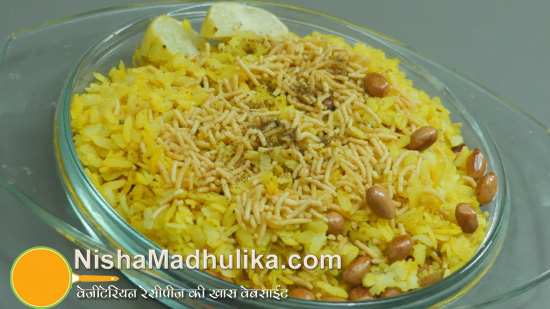 Indore's special Steamed Poha which is yummy. It is very healthy. Enjoy this light snack.
हिंदी में पढ़िए - भाप में पके एकदम सॉफ्ट पोहे । Steamed Poha Recipe | Poha cooked in steam
Ingredients for Poha cooked in steam:
Flattened Rice - 2 cup ( 150 gms )
Namkeen Sev - 1/2 cup
Roasted Peanuts - 1/3 cup
Coriander leaves - 1 to 2 tbsp (finely chopped)
Curry Leaves - 15 to 20
Lemon - 1
Turmeric Powder - Less than 1/4 tsp
Oil - 1 tsp
Sugar - 2 tsp
Salt - More than 1/2 tsp or to taste
Green chili - 2 (finely chopped )
Black Mustard - 1/2 tsp
How to make Steamed Poha:
Take poha of medium thickness in a mixing bowl. Wash and soak it, then drain out water. Wash again then drain water instantly.Do not keep the poha in water for long.Keep 1 tsp water, It helps poha to puff up.
Add 2 tsp sugar, little more than 1/2 tsp salt, Less than 1/4 tsp turmeric powder. Mix all ingredients well. Add half a lemon's juice i.e 2 tsp juice to the poha, mix well.Keep it aside for 5 minutes,then stir it again.
After 5 minutes, Toss the poha with the spoon and spread it.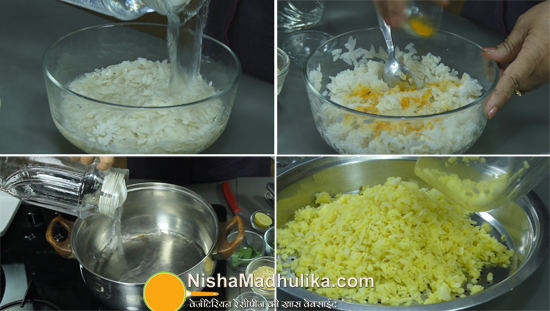 Take a vessel big enough to place the colander filled with poha. Fill the vessel with 2 to 2.5 cup water and heat it. Turn on flame and cover the vessel with lid, so that it boils up quickly. Place the poha in a colander.Spread the poha in the colander.
Place the poha filled colander in the vessel.Keep the flame medium. Cook the poha on medium flame for 10 minutes. After 10 minutes , poha is cooked and ready.Turn off flame.Take out the poha in a serving bowl.
For tempering,
Heat a tadka pan. Add 1 tsp oil, heat it up. When sufficiently hot, add mustard seeds, chopped curry leaves, finely chopped de seeded green chilies. Slightly roast them. Add tempering to poha and mix it. Take it out in a plate.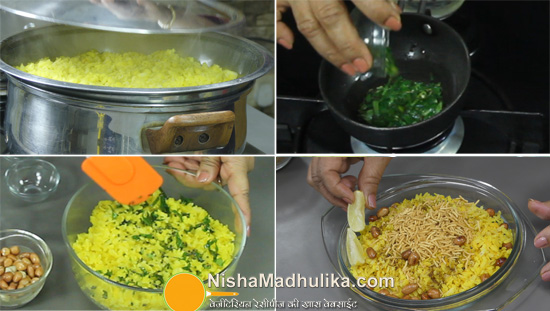 Yummy and healthy steamed Poha is ready.Sprinkle a little namkeen sev over it, some roasted peanuts and green coriander for garnishing.If you wish you can keep a lemon wedge too. Enjoy this easy recipe anytime.
Suggestion :
Do not put too much water in the poha,that they turn sticky and gooey.Water should be as much so as to just soak the poha.
You can adjust the quantity of oil or green chili as desired.
Steamed Poha Recipe | भाप में पके एकदम सॉफ्ट पोहे । Poha cooked in steam

Tags
Categories
Steamed Poha Recipe | Poha cooked in steam
Nisha Madhulika
Rating:

5.00

out of

5