Arbi Masala Recipe | Arbi Ki Sukhi Sabzi | Fried Arbi recipe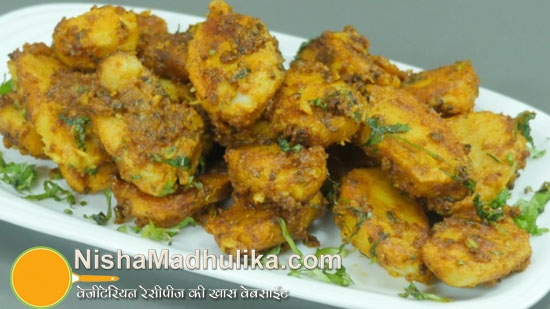 Boiled Arbi together with flavorful spices make a yummy side dish for all your travels along with your favorite poori, parantha or naan.
हिंदी में पढ़िए - अरबी की सूखी सब्जी | Arbi Masala Recipe | Arbi Ki Sukhi Sabzi | Fried Arbi recipe
Ingredients for Fried Arbi Recipe
Taro root - 400 gms
Mustard oil - 2 to 3 tbsp
Green coriander - 2 to 3 tbsp (finely chopped)
Carom seeds - 1 tsp
Asafoetida - 1/2 pinch
Turmeric Powder - 1/2 tsp
Green chili - 2 (finely chopped )
Ginger - 1/2 inch piece (finely chopped )
Red chili powder - 1/2 tsp
Coriander Powder - 2 tsp
Dry Mango Powder - 1/2 tsp
Garam masala - 1/4 tsp
Salt - 1 tsp or to taste
How to make Arbi ki Sukhi Sabzi
Take 400 gms arbi. Wash and put the arbi to boil. Add as much water in which the arbi sink.Turn on the flame. Close the lid of cooker. Boil till single whistle. After the whistle, reduce flame. Boil it the cooker for 2 minutes on low flame.Then turn off flame. After pressure escapes from cooker, check the arbi.If soft they are ready.Take out arbi from cooker, place in a plate and cool them.
Once cool, peel with help of a knife.Keep the while part of it. Then cut them vertically.
Add mustard oil to the pan. When sufficiently hot add Add carom seeds,asafoetida, turmeric powder, coriander powder, green chilies finely chopped, ginger piece finely chopped .Slightly roast the spices.
Add the arbis, add salt or to taste, dry mango powder, red chili powder, garam masala. Mix the spices.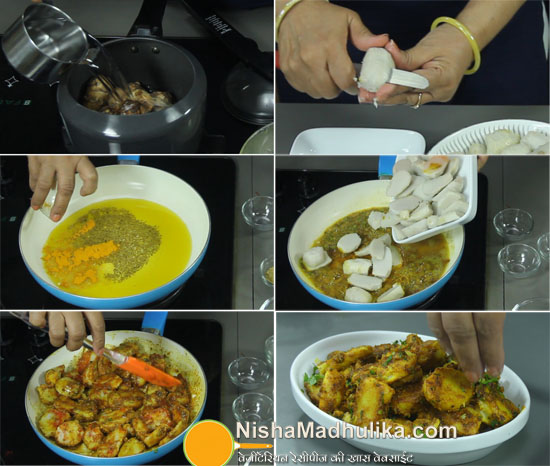 Spread the arbi a little. Cover them and cook for 2 to 3 minutes on low flame.
After 3 minutes check it. Flip it. When arbi are crispy, add a little green coriander to it and mix. Turn off flame,take out the arbi in a plate.
Sprinkle a little green coriander over Arbi masala to garnish and serve it with you favorite poori or paratha. You can carry along Arbi sabzi with poori or parantha wherever you travel. This sabzi stays good for 24 hour, doesn't go stale easily.
Suggestion:
When you bring the arbi from the market,make sure it is round in shape and has no joints.
Arbi made in mustard oil tastes sumptuous though,you can take any cooking oil.
Keep a check on the time when you boil arbi.
Peel arbi when it cools completely.
Arbi Masala Recipe | अरबी की सूखी सब्जी । Arbi Ki Sukhi Sabzi । Fried Arbi recipe

Tags
Categories
Arbi Masala Recipe | Arbi Ki Sukhi Sabzi | Fried Arbi recipe
Nisha Madhulika
Rating:

5.00

out of

5