Sandwich Dhokla | Double Layered Dhokla | Gujarati Instant Sandwich Dhokla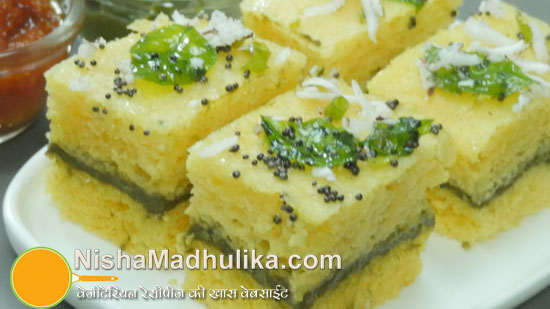 Mouth drooling green chutney Sandwiched between 2 layers of dhokla make a yummy. Sandwich dhokla. It is a tempting snack to relish.
हिंदी में पढ़िए - सैंडविच ढोकला । Sandwich Dhokla | Double Layered Dhokla | Gujarati Instant Sandwich Dhokla
Ingredients for Gujarati instant Sandwich Dhokla
Chickpea flour - 1.5 cup (150 gms)
Whisked Curd - 1 cup
Green Coriander chutney - 1/2 cup
Oil - 2 to 3 tbsp
Fresh Coconut - 2 to 3 tbsp (grated)
Black Mustard - 1/2 tsp
Curry leaves - 10 to 12
Sugar - 2 tsp
Salt - 3/4 tsp or to taste
Green chili - 2 (finely chopped)
How to make Double Layered Dhokla
Take chickpea flour, also whisked curd in a bowl and make a smooth batter by mixing the two. We have used 3 tbsp water in it.
Once batter is of right consistency then add 1 tsp sugar to it, 2 tsp oil, ¾ tsp salt or to taste. Mix all ingredients well until sugar dissolves. Keep the batter aside for 10 to 15 minutes to set.
After 10 min the batter is puffed up and ready. Divide batter in 2 parts and keep in separate bowls.
Place a vessel to heat on flame. Put a jali stand in it then add 2 to 2.5 cup water. Turn on the flame. Cover the lid of the vessel and let water boil.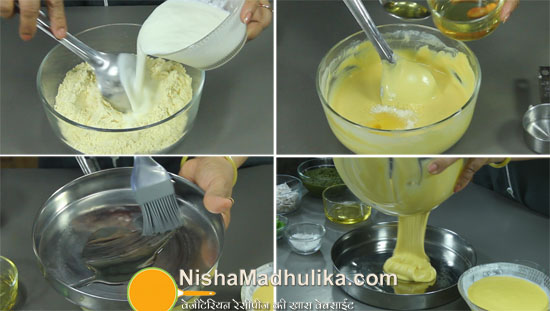 Take a thali and grease it with a little oil.
Add 3/4 tsp eno fruit salt to one bowl of the batter. Once puffy, pour batter on thali, tap and spread evenly. Meanwhile also check the water.
Reduce the flame, while you place the thali in vessel to prevent from burning. After placing the thali increase flame. Cook the dhokla for 5 minutes on high flame.
After 5 minutes, take out the thali, spread chutney over the layer. We have taken ½ cup chutney. Spread it lightly so that the layer below isn't mashed.
After spreading chutney, Take the other bowl of batter left and add remaining eno fruit salt to it. Mix well. Spread batter over chutney layer lightly so that the layer below isn't mashed. Put the thali back into the vessel carefully. Cook the dhokla for 12 to 14 minutes on high flame.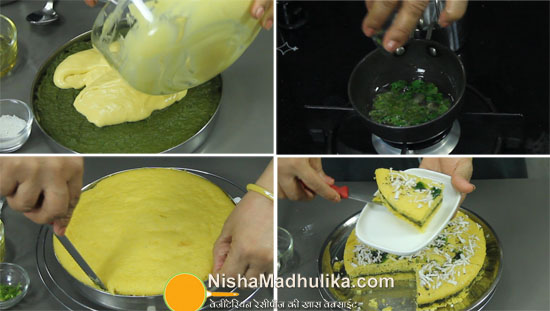 After 15 minutes, poke it with a knife and check. Dhokla is ready if knife comes out clean. Dhokla is ready, turn off flame.To take out the dhokla, separate it from the edge of the plate with a knife. Move the knife forward. Place another plate over it and flip it. Tap the plate to take out dhokla.
For tempering
Take a pan, put 1 tbsp oil, heat it . Add add ½ tsp black mustard, let it crackle, then add ½ cup water, add 1 tsp sugar to it. Cook till sugar dissolves.
Cut the slice of dhokla, spread tempering over it and serve to friends and family. You can have it with green coriander chutney, peanut chutney, tomato sauce.
Suggestion:
You can take green coriander, sesame seeds. If you take sesame seeds, add it while you prepare the tempering.
You can also make it from semolina or from dal batter.
Sandwich Dhokla | Double Layered Dhokla | सैंडविच ढोकला | Gujarati Instant Sandwich Dhokla

Tags
Categories
Sandwich Dhokla | Double Layered Dhokla | Gujarati Instant Sandwich Dhokla
Nisha Madhulika
Rating:

5.00

out of

5