Crispy Fried Corn । Spicy Crispy Corn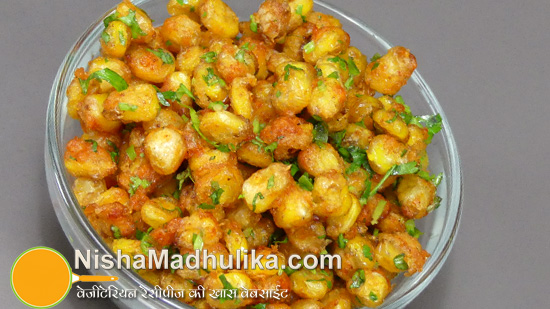 There is a tasty starter as snacks of making an amazing recipe of Spicy Crispy corn.
हिंदी में पढ़िए - चटपटे कुरकुरे स्वीट कॉर्न । Crispy Fried Corn । Spicy Crispy Corn
Ingredients for Spicy Crispy Corn :
Sweet corn - 1 cup
Corn flour - 2 tbsp
Salt - 1/2 tsp
Red chili powder - 1/2 tsp
Oil - for frying
For Serving
Green chili - 2 (finely chopped)
Green coriander - 1 to 2 tbsp (finely chopped)
Lemon - 1/2 or 1 tsp lemon juice
How to make Crispy Fried corn :
To boil
Take a vessel, fill with 2 cups water.Turn on flame. Let the water boil.Put the sweet corn to boil in water for 5 to 6 minutes.
Check if it seems puffy after 5 minutes. Once boiled well. Take it out from water.Put it in the sieve. Keep in bowl.
Add cornflour, red chili powder, salt. Mix all ingredients well, till sweet corn is coated and the corn doesn't look powdery.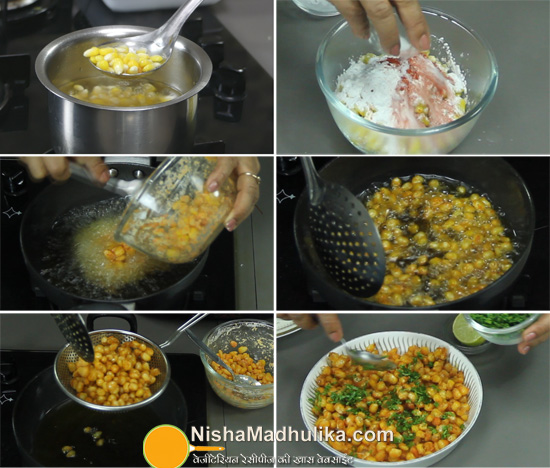 To fry
Heat oil in wok. Check the oil. Once rightly hot, put the sweetcorn to fry.Spread it with a ladle. Keep the flame low medium and roast sweetcorn for 3 minutes.
Fry for 1 to 2 more minutes on high flame. Gradually increase flame. Keep check on it. Cover the wok if corn splatters.
To take out the sweetcorn, Take an extra sieve, take out sweet corn, hold it on the edge of the wok. Meanwhile reduce flame, keep fried sweet corns in a plate. It takes 5 minutes to fry sweetcorn once. Fry all the sweet corn likewise.
For garnishing, take finely chopped green chili, green coriander, Add black pepper or dry mango powder. Add a little lemon juice to it. Mix all ingredients well.
Crispy sweet corn are ready to be served. You can serve it as an appetizer at a party or just munch on it.
Suggestion :
If it is still powdery, then add 1/2 or 1 tsp water.
You can eat sweetcorn just like this.If you add chaat masala to it,then add less salt initially or skip it.Chaat masala itself has much salt.
It has salt, chili, it is crispy too.You can add more red chili if desired.
When you fry the sweet corn,oil should not be very hot.it should be medium hot.flame should be low,then put sweet corn to fry.If you put it to fry on high flame suddenly then it would splatter out of the wok.
Crispy Fried Corn । चटपटे कुरकुरे स्वीट कॉर्न । Spicy Crispy Corn

Tags
Categories
Crispy Fried Corn । Spicy Crispy Corn
Nisha Madhulika
Rating:

5.00

out of

5