Shalgam Ka Bharta । Spicy Mashed Turnip Recipe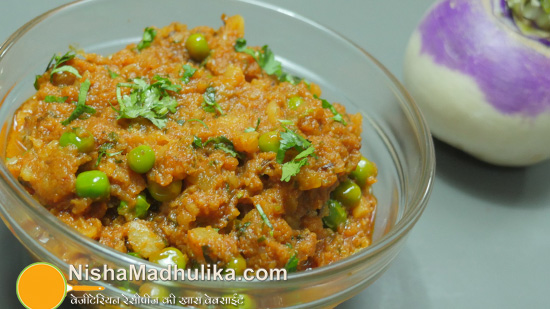 Turnip is one veggie peeople might pinch their nose at but people eat Shalgam bharta with great joy. This bharta will give a unique taste.
Ingredients for Spicy Mashed turnip recipe
Turnips - 4 (300 gms )
Tomatoes - 2 (200 gms)
Green chilies - 2
Green peas - 1/2 cup
Green coriander - 2 to 3 tbsp (finely chopped )
oil - 2 to 3 tbsp
Asafoetida - 1/2 pinch
Cumin seeds - 1/2 tsp
Ginger paste - 1 tsp
Lemon - 1/2
Turmeric powder - 1/4 tsp
Coriander powder - 1/4 tsp
Red chili powder - 1/2 tsp
Garam masala - 1/4 tsp
Sugar - 1 tsp
Salt - 1 tsp or to taste
How to make Shalgam ka bharta
Take 4 turnip washed and dried. Chop off its head.Put it in a bowl of water and wash. Peel it then cut into 1/2 by 1/2 inch piece.
Make tomato green chili paste.
Put cooker to heat add 2 tsp oil in it. When hot, Reduce flame, Add half cumin seeds, half asafoetida,1/2 tsp ginger paste, half turmeric powder,half coriander powder. Slightly roast it. Add the turnip to it, red chili powder,salt add 1/4 cup water to it. Mix it. Close the lid of cooker. Increase the flame. Cook the turnip till a single whistle. after whistle,reduce the flame.Let the turnip boil on low flame for 5 minutes.
For masala for the bharta, Add 1 tbsp oil to the pan and let it heat.Then add cumin seeds, turmeric powder,coriander powder,ginger paste, slightly roast spices. Also add tomato green chili paste.Keep flame medium.Add red chili powder to the masala. Stir and roast well till oil separates. Stir and roast at regular intervals.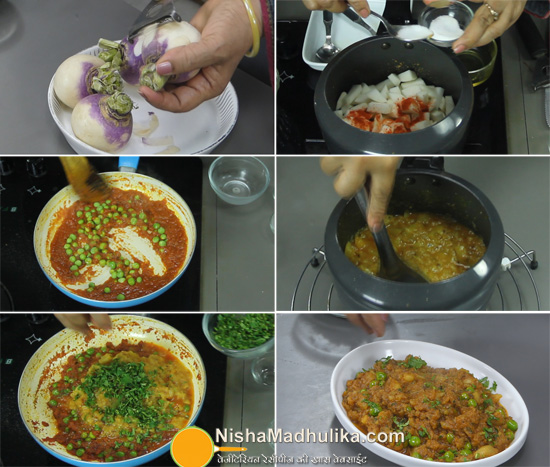 Roast the masala till then. Add 1/2 cup green peas,to masala. Cover and cook it on medium flame for 3 minutes.Check if tender. Add 1 tsp sugar (optional). Add salt.
Turnip is boiled well in 5 minutes. Open lid of cookerafter the pressure escapes, mash well.
Mix it to the masala,Take 1/4 tsp garam masala add it.Add a little green coriander.Mix all ingredients well.Cover and cook it for 2 to 3 minutes. Keep medium flame.
After 3 minutes bharta is ready, add 1/2 tsp lemon juice to it. Mix it. Take it out in a bowl.
Mouth drooling Turnip bharta is ready, Garnish with green coriander.Serve it with chapati,paratha ,naan or rice.It is sufficient for 3 to 4 members.
Suggestion :
If you wish to add onion garlic to it,then you can add finely chopped 1 small onion and 4 to 5 garlic cloves,after the cumin seeds.Roast until it is pinkish.Add rest of the ingredients likewise and make bharta.
Add green peas if desired else skip it. Sugar is also optional, you can skip if desired,
If you wish to eat more tangy sabzi,then add more lemon juice.
Shalgam Ka Bharta । शलगम का भर्ता । Spicy Mashed Turnip Recipe


Tags
Categories
Shalgam Ka Bharta । Spicy Mashed Turnip Recipe
Nisha Madhulika
Rating:

5.00

out of

5