Corn Flour | Corn Starch। Maize Starch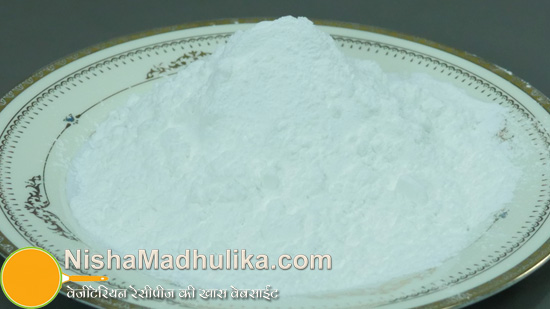 Corn flour is the starch of the corn (maize) grain.
Corn flour comes in yellow and white and is used for breading and in combination with other flours in baked goods. It is commonly used as a thickening agent in soups and liquids.
Difference between corn flour and Maize flour
Many people take Corn flour and Maize flour as one. Corn flour is milled from the whole kernel, while cornstarch is obtained from the endosperm portion of the kernel.

Culinary uses of Corn flour
Corn flour is used to thickening gravies,used as a filler or used for binding. It also helps in binding of tikki so that it doesnt break. It also is used in koftas, used in manchurian gravy, it also gives a crispy coating to the french fries. It is also used in sweets such as gulab jamun, chena , rasgulla, bombay karachi halwa.
It is also used in pie, pudding , sauce, stew and soups.
It is gluten free, so those allergic to gluten can use it.
How to store cornflour
Store it in an air tight container
Do not let any kind of moisture in.
Maintain hygiene while using it.
Make sure you open the container with dry hands and take out with a dry spoon.
Measures while buying corn flour
While purchasing corn flour always check that it is powdery, without any discoloration. Buy it from a trusted brand.
Culinary uses of Corn flour
Gobhi Manchurian
Dahi Kebab
Chilli potato
Tomato soup
Mango Ice cream
Veg Manchurian
Malai Kofta
Spring Roll Wrappers
Tags
Categories
Corn Flour | Corn Starch। Maize Starch
Nisha Madhulika
Rating:

5.00

out of

5