Dalcheeni - Dalchini - Cinnamon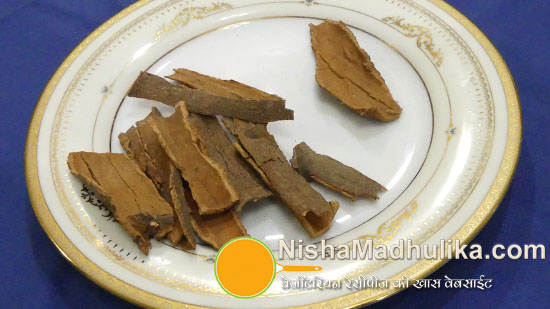 Famous by the name of wonder spice, cinnamon enhances the flavor of recipes and is also beneficial for health. Obtained from the tree bark, this spice is available in stick and powder form.
हिंदी में पढ़िए - दालचीनी | Dalcheeni | Dalchini | Cinnamon
Cinnamon is known as Twak in sanskrit and Dalchini in Hindi. Cinnamon stick is a bit thick, it is dry and brown in color. Cinnamon powder is available in brown and coarsely ground powder form. The cinnamon used as a spice and medicine has a distinct fragrance and sweetness to it. It has warm effect.
Uses of Cinnamon
Cinnamon is roasted or sun dried and then used as a garam masala. It is also used in sweets, cakes , cookies, pulao, biryani, drinks etc. Cinnamon is an essential ingredient in making masala tea. Cinnamon is also used for garnishing. It is used for various types of illness where it is mixed with other ingredients and used as a medication.
Cinnamon Benefecial for Health
Cinnamon is quite helpful in cough and cold, joint pain and in reducing weight. It is also helpful in maintaining the immunity. It is used in medication for skin ailments, diabetes, cholestrol. Though cinnamon is very benefecial but using it in higher quantity is harmful.
Where to buy Cinnamon
Cinnamon is available at any grocery store in stick or powder form. You can also purchase it online.
Cinnamon is often adulterated with barks of other plants. So check it properly and buy it only from a trusted brand.
How to store Cinnamon
Store cinnamon powder in an air tight container so that its aroma stays intact.
Do not let in any kind of moisture.
Maintain proper hygiene and dryness in it. Use dry spoon to take it out.
Culinary uses of Cinnamon
Cinnamon Rolls
Turmeric Latte
Garam Masala
Sambar Masala
Christmas cake
Honey oat cookies
Navratan Pulao
Kashmiri pulao
Vegetable Biryani
Hara Bhara Pulao

Tags
Categories
Dalcheeni - Dalchini - Cinnamon
Nisha Madhulika
Rating:

5.00

out of

5