Cardamon| Lesser Cardamom | Cardamum | Black Cardamom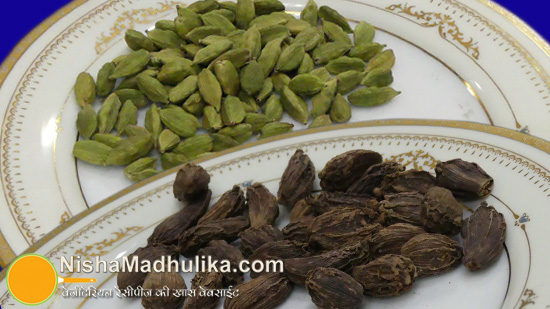 Cardamon| Lesser Cardamom | Cardamum | Black Cardamom
Cardamom has a great importance among indian spices. Due to its special flavor and aroma it is also known as the queen of spices. Cardamom are mainly of 2 types- Black Cardamom & Green Cardamom.
Black Cardamom
Black cardamom is big in appearance. Its kin is hard, and tastes sour. Black cardamom is mostly used in veggies to enhance flavor. It is specially used in garam masala. Sonth, chole, rajma ,pulao are incomplete without it.
Cardamom
The skin of green cardamom is soft and green in color. Despite being small it is preffered for its sweet taste.It is used for making sweets and other recipes more delicious. It is also used as garam masala.
People often use it as a mouth freshner after meals. It is mostly used in pedas, barfi, rasmalai, rasgulla, gulab jamun,sherbet ,tea etc.
Alternative names of Cardamom
It is called by many names in India,such as jheeli elchi, laghuvela, chota elaich,rani alaich,daunda.
Where to buy
Cardamom is available in market in various forms such as whole, coarsely ground and powdered. You can find it at any grocery store or buy it online.
How to store cardamom
Do not keep cardamom in direct sunlight. If you keep it in warm place, it will dry up, and its effect reduces.To maintain it effect store it in a cool place. Keep it in an air tight container so that the aroma stays. Take out cardamom powder with a clean and dry spoon. There should not be any moisture in it.
Use of Black cardamom in our recipes
Uses of Green Cardamom in recipes
Modak
Mawa Peda
Chena Murki
Gulab Jamun

Tags
Categories
Cardamon| Lesser Cardamom | Cardamum | Black Cardamom
Nisha Madhulika
Rating:

5.00

out of

5