Veg Handi Recipe- How To Make Veg Diwani Handi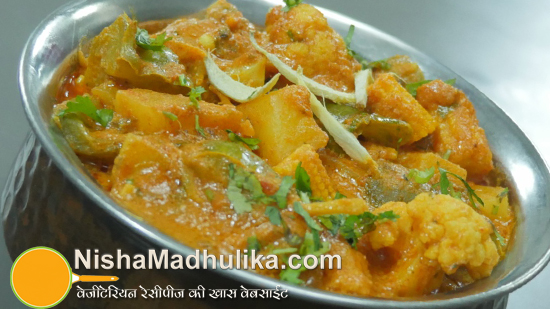 Made with various veggies here is a complete Veg Handi recipe.
Ingredients for Veg Handi Recipe
Capsicum -1
Parwal – 2
Baby corn- 5
Cauliflower-1 cup (finely chopped)
Peeled Potatoes – 2
Tomatoes- 4 (300 gms)
Ginger – ½ inch piece
Green chilies- 2
Oil – 2 to 3 tbsp
Cream – 1 tbsp
Green coriander- 2 to 3 tbsp (finely chopped)
Cumin seeds- ¼ tsp
Turmeric powder- ½ tsp
Coriander powder- 1 tsp
Red chili powder- ½ tsp
Garam Masala ¼ tsp
Whole Garam Masala
Brown Cardamom – 1
Cloves – 2
Cinnamon stick – 1 inch
Black pepper- 6 to 7
Ginger – ½ inch piece (julienne)
Salt- 1 tsp (or to taste )
How to make Veg Diwani Handi
Chop some veggies. Also tak chopped cauliflower. Take baby corns,capsicum, peeled parwals , peeled potatoes and cut them into chunks.
To cook the veggies , turn on the flame and add 1 tbsp oil in the pan. Let the oil heat sufficiently, then add cumin seeds and sauté it for a while. Add all the chopped veggies into it , then add ½ tsp salt. Mix and roast the veggies for a while. Cover and cook the veggies for 5 minutes on low flame.
Peel brown cardamom and coarsely crush the seeds.Take 4 tomatoes, ½ inch ginger baton and 2 green chilies. Grind them to make a fine paste.
To prepare masala for the gravy, Place a wok over flame. Add 2 tbsp oil in the pan and heat it sufficiently. Add whole spices like 1 inch cinnamon stick, 6 to 7 black peppercorns, 2 cloves and 1 brown cardamom (coarsely crushed ). Roast for a while and keep the flame medium to prevent the spices from browning.Add tomato-ginger paste, followed by add turmeric powder, coriander powder ,red chili powder and few ginger juliennes. Sauté the masala until oil starts separating from it. Keep stirring at regular intervals.
Also keep checking the veggies at regular intervals. Stir the veggies and cover again. Check them after 5 minutes.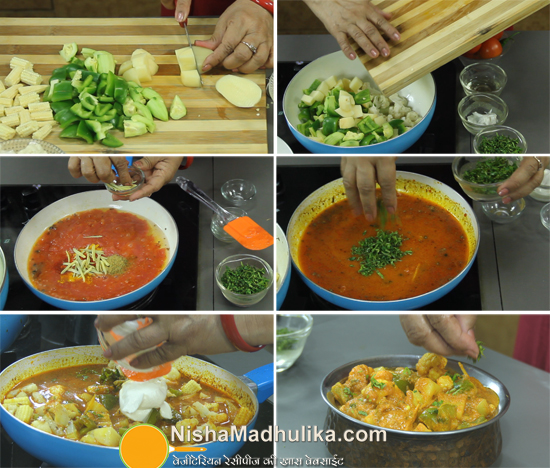 Masala has turned fragrant and is ready. Check the veggies to see if they have turned tender. Turn off the flame where the veggies are cooking. Masala is roasted, then mix 1 cup water to it, followed by ¼ tsp garam masala ½ tsp salt and some green coriander as well. We are mixing the veggies to the gravy. Mix it thoroughly. Then add 1 tbsp cream Stir to mix it well until sabzi starts simmering.
Once the sabzi has started simmering cover and cook it on low flame for 5 to 6 minutes so that veggies absorb all the spices nicely. Reduce the flame.
After 6 minutes, Transfer the sabzi into a bowl and turn off the flame. Scrumptious and super sumptuous veg handi sabzi is ready. Garnish with some green coriander and ginger juliennes. Serve it with chapatti, paranthas, naan or rice. This much quantity of sabzi is sufficient for 4 to 5 family members.
Veg Handi Recipe - मिक्स वेज हांडी - How To Make Veg Diwani Handi

Tags
Categories
Veg Handi Recipe- How To Make Veg Diwani Handi
Nisha Madhulika
Rating:

5.00

out of

5