Sweet Tomato Chutney Recipe - Sweet n Spicy Tomato Chutney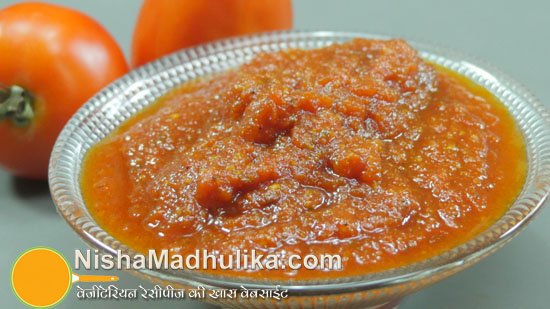 Tomato chutney is very delicious chutney. It enhances the taste of poori, paratha, kachori. etc.
हिंदी में पढ़िए - टमाटर की मीठी चटनी | Sweet Tomato Chutney Recipe | Sweet n Spicy Tomato Chutney
Ingredients for sweet n spicy tomato chutney
Tomato – 4 (300 gms)
Oil – 1 tbsp
Sugar – ¼ cup (50 gms)
Fennel powder- 1 tsp
Red chili powder- 1 tsp
Garam masala – ½ tsp
Roasted cumin powder- ¼ tsp
Turmeric powder – ¼ tsp
Black salt - ¼ tsp
Salt – 1/3 tsp
How to make Sweet Tomato chutney
Take tomatoes. Wash the tomatoes, pat dry then remove the stalk. Cut the tomatoes in big pieces. Place the big pieces, into the mixer jar and make a fine paste from the tomatoes.
Turn on the flame , place a pan to heat. Add oil to the wok and let it heat up. Once the oil is sufficiently hot add cumin seeds. Then add turmeric powder and slightly roast it.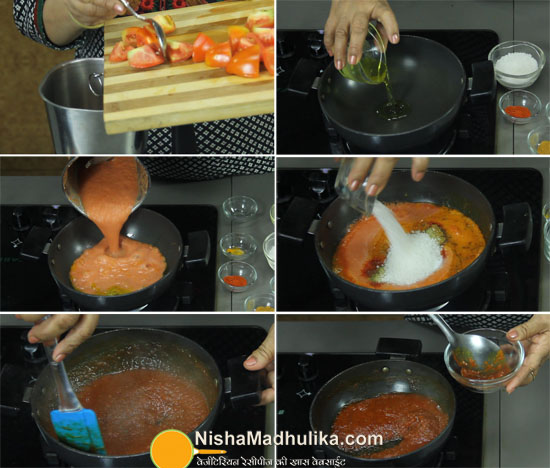 Add tomato paste followed by 1/2 tsp red chili powder,1/2 tsp garam masala,1 tsp fennel seeds powder,1/4 tsp black salt, 1/3 tsp plain salt, i.e a little more than 1/4 tsp.1/4 cup sugar too. Cook the chutney until the tomato is completely cooked and dense. Stir at intervals. Once dense turn off the flame.
Chutney is ready, take it out in a bowl. It takes 15 minute to cook the chutney. You can keep it in the refrigerator for a week and eat it. You can serve it with pakore, kachori or samosa.You can have it with paratha too.
Sweet Tomato Chutney Recipe | Sweet n Spicy Tomato Chutney | टमाटर की मीठी चटनी

Tags
Categories
Sweet Tomato Chutney Recipe - Sweet n Spicy Tomato Chutney
Nisha Madhulika
Rating:

5.00

out of

5