Chana Dal Namkeen - Dalmoth Namkeen recipe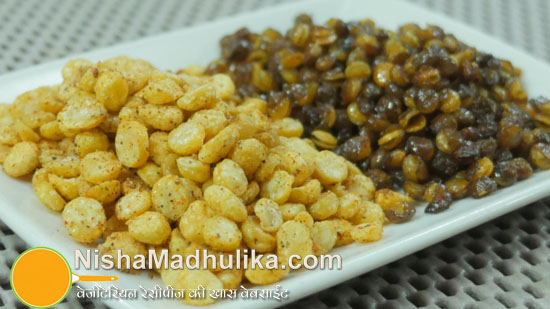 Soaked dal fried well, here is crispy Chana dal Namkeen and Dalmoth. Make it keep it in a container and relish for 2 months. Relish with tea or enjoy it just like that.
हिंदी में पढ़िए - चना दाल नमकीन और दालमोठ - Chana Dal Namkeen - Dalmoth Namkeen recipe
Ingredients for Dalmoth Namkeen recipe :
Soaked Black Masoor Dal – 1 cup ( 200 grams)
Soaked Chana Dal- 1 cup (200 grams)
Black pepper powder- ½ tsp
Red chilli powder- ½ tsp
Dry Mango powder- ½ tsp
Black salt- ½ tsp
Roasted Cumin Powder- ½ tsp
salt- ½ tsp
Oil – for frying
How to make Chana Dal Namkeen :
Wash 2 times and then soak chana dal and black masoor dal in different bowl with ½ tsp baking soda mixed into each one of it. Soak well for 5 to 6 hours.
After 6 hours once soaked well drain the water from it, wash again and drain the water using a sieve and pat dry it using a cloth.
To fry take oil in a pan, turn on the flame and heat it. Once the oil is hot enough and smoke is rising from it then Pour some dal into oil to fry and stir it. When the foam from the oil has settled and dal is floating above the oil. The chana dal is fried and ready. Sieve it out. for that take a deep sieve and a normal slotted ladle used for frying pooris, Lift the dal with a deep slotted ladle and place it in a deep sieve so the oil will drain back to the wok.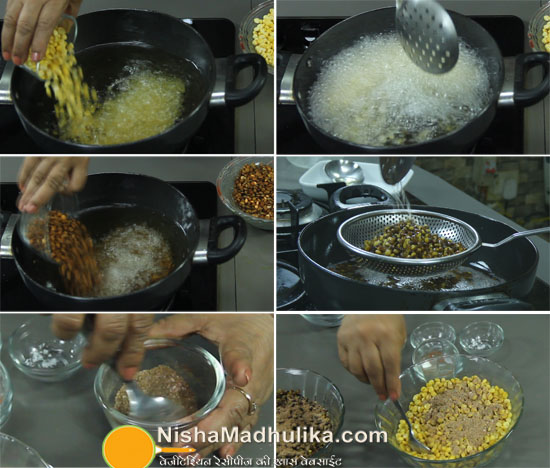 Take a sieve again and place a bowl below it, Place the fried dals in the sieve, so that the extra oil goes into the bowl, Likewise fry all of the dal,
To fry the Masoor dal, pour it in the oil to fry . See if it it floating above the oil and the bubbles have settled. Sieve it the same as the chana dal so that the extra oil drains out. Then take it out the same way.
Dal is crispy. Now add masala to it. Take ½ tsp salt, 1/2tsp black salt, ½ tsp dry mango powder, ½ tsp black pepper powder, ½ tsp red chili powder, and ½ tsp roasted cumin powder. Mix all well. Once the Masala is mixed and ready, Mix half of the spices in each of the dal and mix it well.
Tempting and crunchy Dal namkeen is ready now. You can surely relish it anytime to satisfy your hunger pangs. Both kids and adults will relish eating it. Team it up with a hot cup of tea or simply munch over it. This dal namkeen is a delight anyway. When the namkeen cools down completely, store it in a container and eat it for 2 months.
Suggestion:
If you don't add baking soda to it, the dal will be hard.
If you are making dals you can adjust the spices as according to your taste.
If you want the dal to be less spicy you can skip the red chilli powder and use black pepper powder in it
If you wish you can spread the dals over a cotton cloth for half an hour or so. The cloth will soak the water from it and the dals dry up and don't stick to each other and are ready to be fried.
You can prepare the masala as according to your taste,If you want too spicy dal, you can add more red chili powder to it.
Chana Dal Namkeen - चना दाल नमकीन और दालमोठ - Dalmoth Namakeen recipe

Tags
Categories
Chana Dal Namkeen - Dalmoth Namkeen recipe
Nisha Madhulika
Rating:

5.00

out of

5