Aloo Masala Naan On Tawa - Stuffed Potato Naan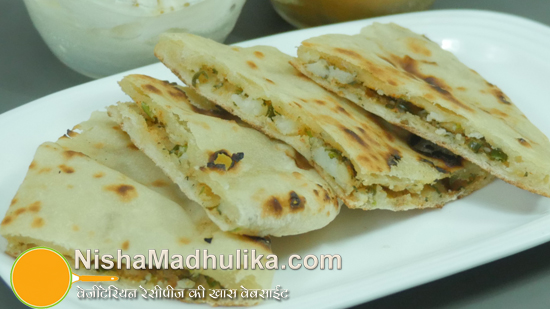 Stuffed Naan really tastes amazing. Today we will prepare Aloo Naan on tawa which will taste just like tandoori naan.
हिंदी में पढ़िए - आलू नान तवे पर- Aloo Masala Naan On Tawa - Stuffed Potato Naan
Ingredients for Stuffed potato naan :
Refined flour - 2 cups (250 gms)
Curd - 1/4 cup
Ghee - 2 to 3 tbsp
Oil- 2 tbsp
Sugar - 1 tsp
Salt - 3/4 tsp ( or to taste )
Baking Powder- Less than 1/4 tsp
Boiled potato - 2
Green Coriander- 2 to 3 tbsp
Coriander powder- 1 tsp
Green chilies - 2 (finely chopped)
Red chili powder - 1/4 tsp
Dry Mango powder - 1/4 tsp
How to make Aloo Masala Naan on Tawa
Take 2 cup refined flour in a mixing bowl. Make a hollow pit in it with a spoon. Add 1/4 cup curd to it,1 tsp sugar,1/2 tsp salt. Add less than 1/4 tsp baking powder,add 1 tbsp oil.Mix all ingredients at the pit.Mix all ingredients well .Add lukewarm water in small portions to knead soft dough.Grease hands with some oil, squash the dough for 4 to 5 minute. When ready Cover and keep it in a warm place for 2 to 2.5 hours.
For stuffing
Take 2 potatoes, peel and crumble it. Add 1/4 tsp salt or to taste. Add 1 tsp coriander powder,1/4 tsp dry mango powder.1/4 tsp red chili powder,2 green chilies finely chopped and de seeded 2 to tbsp finely chopped green coriander. Mix all ingredients well. Stuffing is ready.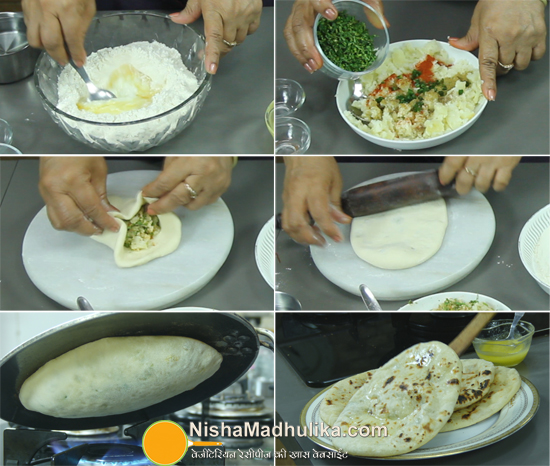 After 2 hours, dough is ready. Take a normal tawa.Turn on flame and heat the tawa. Pinch out a little dough. Make round ball. Coat it in dry flour. Roll it 3 to 4 inch in diameter.
Put 2 to 3 tsp stuffing over it. Close the naan by lifting the dough from sides.Press it with your palm.Spread the stuffing evenly on all sides.Coat it in dry flour again. Roll out the naan in oval shape, keeping slightly thick. Apply less pressure while rolling.Once rolled out, Grease one side of naan with some water,so that naan sticks to the wok.Pour some water on it with a spoon and spread well. Put the naan to roast over tawa.
Once roasted from beneath,Hold the tawa by handle,flip the tawa with the naan sticking, rotate and let it roast till brown spots appear. Once roasted take naan out from tawa. Put the naan on the bowl over plate. Grease with some ghee. Likewise make all naan. turn off flame.
Mouth drooling and luscious Aloo Masala naan is ready.You can eat it with and gravy sabzi,curd, raita or chutney as desired.
Suggestion :
You can keep the dough in a cupboard, or keep the mixing bowl out in sunlight.
Take a normal tawa do not take non stick tawa.
When you stuff the naan , close it nicely.
Aloo Masala Naan On Tawa - आलू नान तवे पर - Stuffed Potato Naan

Tags
Categories
Aloo Masala Naan On Tawa - Stuffed Potato Naan
Nisha Madhulika
Rating:

5.00

out of

5