Instant Raw Mango Chunda - Quick Spicy Sweet Mango Chunda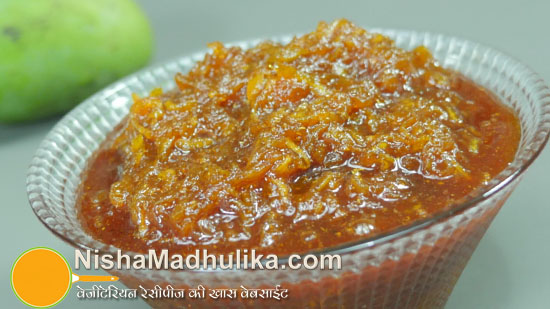 Relished by all, this recipe made from Raw Mango, Jaggery and spices. Pack it in lunch box with poori , paratha and chapati.
हिंदी में पढ़िए - आम का चटपटा छुंदा - Instant Raw Mango Chunda - Quick Spicy Sweet Mango Chunda
Ingredients for quick spicy sweet Mango chunda
Raw Mango - 3 (500 gms)
Sugar - 1 Cup (250 gms)
Finely Crumbled Jaggery - 1 Cup (250 gms)
Red Chili Powder - 1 tsp
Garam Masala - 1 tsp
Roasted Cumin Powder - 1 tsp
Turmeric Powder - ½ tsp
Black Salt - 1 tsp or to taste
Salt - ½ tsp or to taste
How to make Instant Raw Mango Chunda
Take Raw mangoes wash and peel them. Grate the mangoes, it is 2 cups full of grated mango pulp.
Put the grated mango in the wok. Add sugar to it, finely crumbled jaggery. Turn on the flame and keep it medium , mix all ingredients. Add 1 tsp black salt, and 1/2 tsp salt, 1/2 tsp turmeric powder.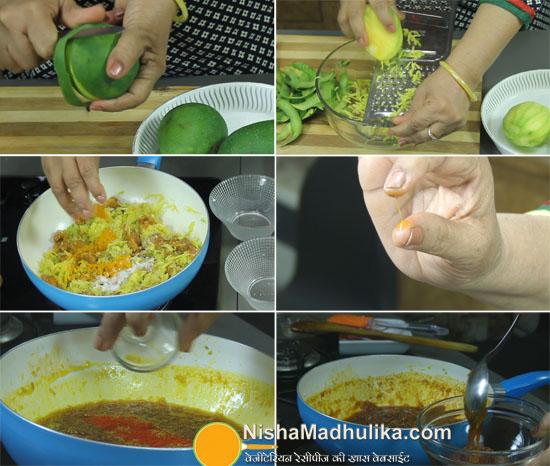 Mix all the ingredients well on low flame.Once jaggery and sugar start melting increase the flame and cook the chunda until dense.
To check the syrup in chunda, pour a little syrup into the bowl. Stick it on your fingers and check it. See if it is single thread syrup the chunda is then ready. Turn off the flame.
Now add spices to the chunda, Add 1 tsp roasted cumin powder, 1 tsp garam masala and 1 tsp red chilli powder. Mix well until all ingredients mix. Chunda might seem a bit thin, but the syrup is dense. After cooling down it will become more dense.
Tempting and delicious Mango Chunda is ready ,take it out in a bowl. It can be relished with Poori or paratha anytime. I am sure it will be everyone's favorite. Once it is ready cool it and place it in a glass container, you can store it for 1 yr or 2 yrs and eat it.
Suggestion:
Traditionally chunda can be made by mixing grated raw mango, sugar or jaggery and spices and kept in a glass container for 8 to 10 days and placed in sunlight.
You can add both jaggery and sugar to the chunda You can make it with only sugar or only jaggery.
If you wan't to make the chunda more spicy, then add a little more of red chilli powder
When the chunda is slightly cooked and becomes dense,make sure you stir it, stir it continuously, and check the chunda,when the threads form in the chunda, it is ready.
Instant Raw Mango Chunda - आम का चटपटा छुन्दा - Quick Spicy Sweet Mango Chunda

Tags
Categories
Instant Raw Mango Chunda - Quick Spicy Sweet Mango Chunda
Nisha Madhulika
Rating:

5.00

out of

5