Crispy Sooji Pakode - Rawa Mix Veg Bhajiya Recipe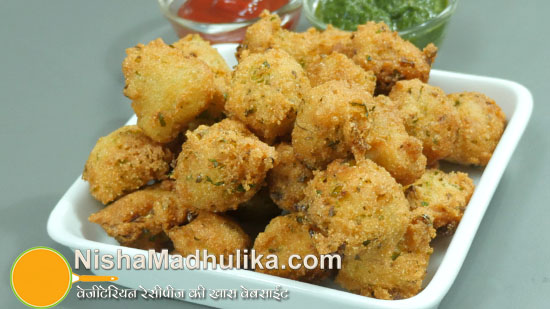 Different from Besan Pakora here is a pakora in a different taste. Here is a crispy Sooji mix veg pakora, perfect for any party.
हिंदी में पढ़िए - सूजी की कुरकुरी मिक्स वेज पकौड़ी - Crispy Sooji Pakode - Rawa Mix Veg Bhajiya Recipe
Ingredients for Rawa Mix veg bhajiya
Semolina – 1 cup (180 gms )
Whisked curd- ¾ cup
Capsicum- ½ cup ( Finely chopped )
Cauliflower – ½ cup ( Finely chopped )
Green Coriander- 2 to 3 tbsp (finely chopped)
Ginger – ½ inch piece (finely chopped)
Green chili – 2 to 3 (finely chopped)
Salt- ¾ tsp (or to taste)
Baking Soda – Less than ¼ tsp
Oil – for frying
How to make Crispy Sooji
Take semolina and transfer it to a big mixing bowl. Add whisked curd. Mix well. Add little water to it.Make the batter same as that of besan pakora. Keep the batter little thin as semolina puffs up. Once done with making batter mix chopped veggies and spices to it.
Add finely chopped bell peppers, finely chopped cauliflower, finely chopped green coriander, ginger baton (finely chopped), green chili (finely chopped), tsp salt or to taste and mix everything really well. If the batter appears little thick so add some water and keep aside for 5 minutes to set.
For making this much batter we have used more than half cup of water. After 5 minutes add less than ¼ tsp baking soda and mix well.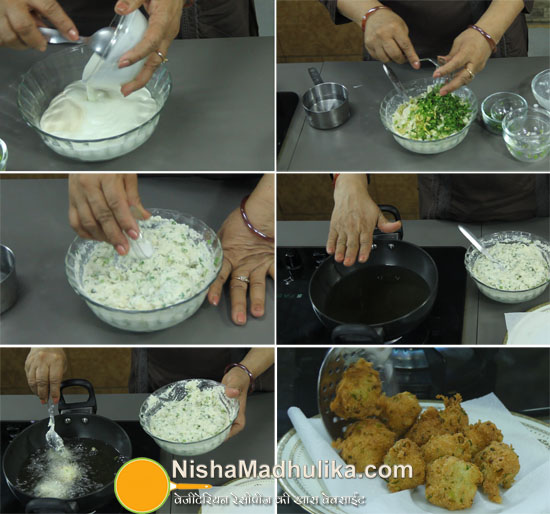 Heat enough oil for frying the pakoras. Check if the oil is sufficiently hot. Bring your hand over the wok and you will feel the warmth. Once the oil is rightly hot. Drop one pakora first to check. Drop more pakoras. You can keep the size of pakoras big or small as per your preference. Keep the flame medium.
When pakoras slightly brown from beneath, flip the sides and continue frying until they get golden brown in color from all sides.Pakoras have turned golden brown, drain them out.Hold the ladle on the edge of the wok like this so that excess oil drains back to the wok.Place the fried pakoras over a plate. Similarly fry remaining pakoras as well.
Steaming hot, crispy and lip smacking semolina pakoras are ready these make perfect snacks during the rains. These pakoras gets cooked so instantly that any sudden guests at your home can be served with these pakoras quickly. You can prepare these pakoras for supper and serve steaming hot. Serve these pakoras with green coriander chutney, tomato sauce or any other sauce as per your preference. It takes 4 to 5 minutes for frying pakoras at once. This much quantity of pakoras is sufficient for 2 to 4 members.
Suggestion :
You can use finely or thick textured semolina.
You can use any veggies as per your preference like finely chopped baby corns, chopped spinach, bell peppers and cauliflower,cabbage or make these pakoras without any veggies.
Adding baking soda helps make the pakoras crispy and puffy.
While making the batter make sure you keep it little thick.Don't make it too thin in consistency.
Crispy Sooji Pakode - सूजी की कुरकुरे मिक्स वेज पकौडी - Rawa Mix Veg Bhajiya Recipe

Tags
Categories
Crispy Sooji Pakode - Rawa Mix Veg Bhajiya Recipe
Nisha Madhulika
Rating:

5.00

out of

5