Samosa Recipe - Aloo Samosa Striped - Crispy & Spicy Samosa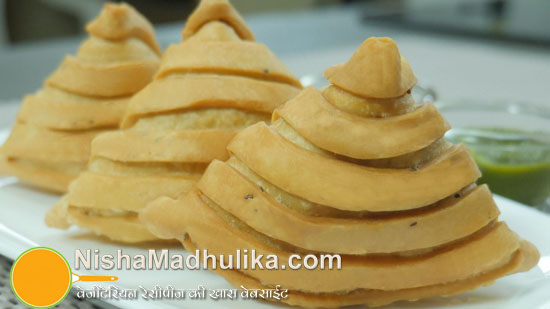 Favorite among street foods, crusty Striped Samosa is tempting. This striped samosa tastes amazing.
Ingredients for crispy and spicy samosa
Refined flour- 2 cups (250 grams)
Ghee- 1/4 cups (60 grams)
Carom seeds- ¼ tsp
Boiled Potato- 4 (300 gms)
Green Pea- ½ cup
Green Coriander- 2 tbsp (finely chopped)
Cumin Powder- ½ tsp
Coriander Powder- 1 tsp
Turmeric Powder- ¼ tsp
Ginger Paste - 1 tsp
Green Chili- 2 (finely chopped)
Garam Masala- ¼ tsp
Red chili powder- ¼ tsp
Dry Mango Powder- ½ tsp
Salt- More than 1 tsp (or to taste)
Oil - for frying
How to make Aloo Samosa striped
Making:
To make samosas start with kneading the dough. Take refined flour in a mixing bowl, add 1/2 tsp salt. Take carom seeds in hand and crush them prior adding. Add melted ghee to it. Add water in smart portions to knead a stiff dough. We have used 1/ 2 cup water for kneading the dough. Cover and keep the dough aside to set for 20 to 25 minutes.
Meanwhile prepare stuffing for the samosa. Preheat a pan and add oil to it. Let the oil heat sufficiently and then add cumin powder to it. Add coriander powder, turmeric powder, ginger paste, finely chopped green chilies and sauté all the ingredients for a while. Keep the flame low to prevent the spices from browning. Add green peas to the pan and sauté for a while. Cook the peas till they turn tender and cover the peas for 2 to 3 minutes and keep the flame low. Peel the boiled potatoes.
After 3 minutes press and check the peas with a ladle, if the peas have turned tender. Put the finely crumbled potatoes to the pan.Add garam masala, red chilly powder, mango powder, salt or to taste along with finely chopped green coriander and mix everything well.Roast the ingredients well for 3 minutes till they turn fragrant. Keep minimum flame. Stuffing is ready. Transfer the stuffing to a plate.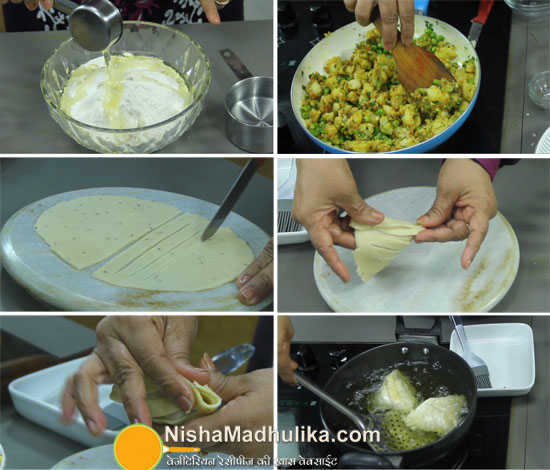 20 minutes are over and the dough is ready. Grease your hands with some oil and knead the dough again until smooth. Now prepare lumps from the dough. You can make it small or big as desired.
Once done with making lumps start rolling out pooris for making samosas. Grease the rolling board with some oil. Take one dough lump and roll giving it a round shape. Prepare an oval shaped sheet, keeping it thick as a chapatti.
Now divide it into two equal halves. As we are making stripes samosa, so mark stripes on one part of the sheet. To mark the stripes leave ½ cm on both the edges and mark stripes and mark ½ cm wide stripes. Once done with marking the stripes apply some water over it.Place the plain half sheet on this marked sheet and roll it out using a rolling pin so that they stick together to each other.
Lift the sheet and place it on your hand to prepare a cone from this sheet same as while making regular samosa. Apply some water and fold to make a cone sticking both the edges together. Place the edges over one another and press well to stick. Cones are ready now.
Start stuffing the cone with fillings to make samosa. Apply some water on the edges using your finger tip and stick the edges. Stuff all the samosas likewise and place it all on a plate.
Meanwhile heat enough oil in the wok to fry the samosas. Check the oil now. Drop a small dough lump into the oil. If the oil is roasting well and it comes up to the surface the oil is hot enough. We need slightly warm oil for deep frying the samosas and also keep the flame medium.
Drop the samosa in oil and fry till golden brown. Flip and fry it well till golden brown from all sides. Once fried, hold the slotted ladle to the side, so that the extra oil goes back into the wok. Then take the samosa out in a plate. Fry all the samosa the same way. It took 15 to 16 minutes to fry samosas at once.
Scrumptious and crispy striped samosas are ready. You can serve it with green coriander chutney, tomato sauce or any chutney of your choice.
Suggestions:
You can add coarsely grinded cumin seeds if you don't have cumin powder.
Make sure , that when you prepare the cone for the samosa, stick it well.
Stuff the samosa and stick the edges well.
After making the samosa leave it for 30 minutes to dry up and then fry them.When the samosas are dried up, bubbles don't pop up on it.
While frying keep the oil slightly hot and keep low flame. Place the samosas in oil and fry till golden brown and then take them out.
Easy to make and Instant Steamed cake in shape of idli. Kids will relish it.

Tags
Categories
Samosa Recipe - Aloo Samosa Striped - Crispy & Spicy Samosa
Nisha Madhulika
Rating:

5.00

out of

5