Kathal Kabab Recipe - Raw Jackfruit Kebab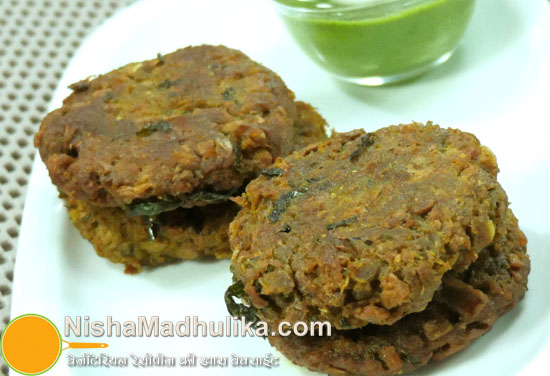 Raw jackfruit kebabs makes are sumptuous and super easy to make. 
हिन्दी में पढिये : Kathal Kabab Recipe - Raw Jackfruit Kebab
Ingredients for Raw Jackfruit Kebab
Jack fruit : ½ kg (500 grams)
Chickpea flour – ½ cup (50 grams)
Oil – ¾ cup
Mint leaves- ¼ cup
Green Coriander- 2 to 3 tbsp (finely chopped )
Green chili – 2 to 3 (finely chopped )
Ginger Paste – 2 tsp
Garam Masala – ½ tsp
Cumin powder- 1 tsp
Dry mango powder- ½ tsp
Coriander Powder- 2 tsp
Turmeric powder- ½ tsp
Salt – 1.25 tsp( or to taste )
How to make Kathal Kabab
Rinse the jackfruit and let dry completely. After this, chop down the jackfruit into small chunks. Do remove the skin from the jackfruit.
Boil the jackfruit
Take jackfruit chunks and half cup of water in a pressure cooker and cook until it whistles once. After it whistles reduce the flame and let it simmer for 4 to 5 more minutes.
After 5 minutes, turn off the flame and check the jackfruit. Press down the jackfruit to check if it turned tender. Transfer the boiled jackfruit in a sieve kept above the bowl. Press the chunks using a spoon to drain out the water.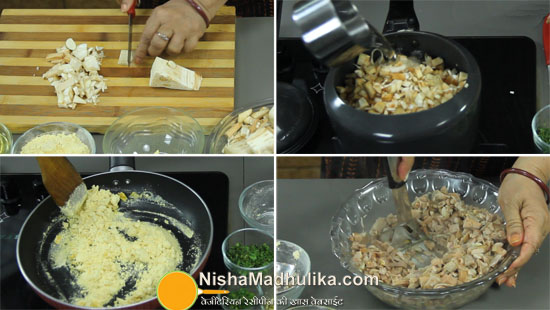 Prepare the mixture for kebabs
Heat 2 tsp oil in a pan. Add chickpea flour to the hot oil. Stir constantly and roast until there is slight change in the color and also til it gets fragrant. Keep the flame medium. Keep stirring continuously and add turmeric powder, garam masala, coriander powder, cumin powder, followed by ginger paste and green chilies. Saute the masala on low flame. Turn off the flame and stir the mixture a little to prevent it from browning.
Take the jackfruit in a bolw and mash it finely using a spoon. Mix this mashed jackfruit to the roasted chickpea flour and also add green coriander, salt, mango powder and finely chopped mint leaves. Turn on the flame and keep it low. Stir to mix everything really well and prepare a soft dough. Transfer the mixture to a bowl and let it cool down a little.
Prepare kababs
Grease your hands with some oil and make small lump from the mixture. Give it a medium sized kebab shape. For this, roll the mixture into round shape and then flatten a little to give shape like a kebab and place it over a plate. Similarly prepare kebabs from remaining mixture as well.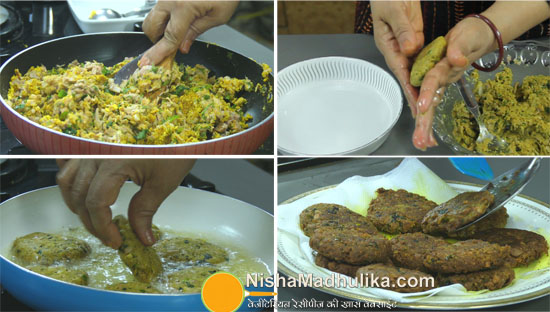 Fry the Kebabs
Heat some oil in a wok. To check if the oil is rightly heated, bring your hand over the wok and warmth can be felt. Oil is sufficiently hot, slide the kebabs into it and fry on medium-low flame until it gets little golden brown from beneath.
After this, turn the side and continue roasting until golden brown in color from all sides. Drain out the fried kebabs from oil using a spatula and place them over a plate covered with absorbent paper so that excess oil can be drained out. Fry the remaining kebabs as well. It take 4 to 5 minutes in frying kebabs at once.
Super tempting and lip smacking raw jackfruit kebabs are ready. Serve them steaming hot with green coriander or any other chutney as per your desire. These kebabs can also be served in meals along with roti or paranthas. They taste super tempting or serve them as snack and relish eating.
Suggestions
Use raw jackfruit .i.e. white jackfruit for making the kebabs. The yellow colored jackfruit is ripe and sweet in taste. Avoid using it.
If mint leaves are not available then mint powder can be used or skip the use of it.
You can shallow fry or deep fry the kebabs as per your preference.
Kathal Kabab Recipe - कटहल के कबाब - Raw Jackfruit Kebab


Tags
Categories
Kathal Kabab Recipe - Raw Jackfruit Kebab
Nisha Madhulika
Rating:

5.00

out of

5