Sama Kachori Recipe for Navratri - Samak Kachori - Upvas ki kachori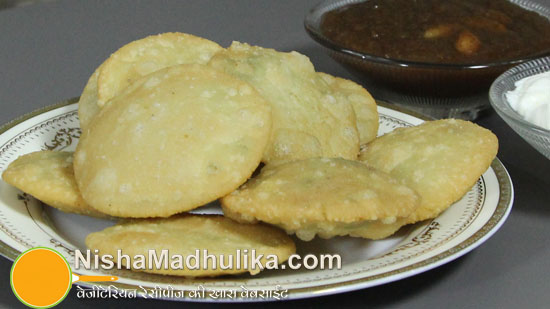 Crispy and mouth drooling sama rice kachoris, specially for vrat.
हिन्दी में पढिये : Sama Kachori Recipe for Navratri - Samak Kachori - Upvas ki kachori
Ingredients for Upvas ki kachori
Samo rice – less than 1 cup (150 grams)
Potatoes – 2 (medium sized)
Green coriander – 2 tbsp (finely chopped)
Oil – 2 tbsp
Roasted cumin powder - ½ tsp
Black pepper powder - ¼ tsp (freshly crushed)
Sendha salt – 2/3 tsp or to taste
Green chilly – 1 (finely chopped)
Oil – for frying kachoris
How to make Samak Kachori
Rinse the samo rice twice thoroughly and soak in water for 2 hours. After 2 hours, drain out water from the rice.
Add soaked samo rice in a mixer jar and grind to make a fine paste.
Roast the rice paste
Take a non stick wok and add rice paste to it. Stir constantly and roast the paste on medium flame for 2 minutes. When the rice paste turns thick, let it cook for a while until it converts into a big lump. Transfer this rice flour in to a bowl and let it cool down a little.
Knead dough from roasted paste
Add 1/3 tsp sendha salt and 3 tsp oil to the dough and knead it well until it gets smooth and soft like dough needed for making chapatti. If the dough seems to be slightly stiff then add 1 to 2 tsp water to it and mix well. Cover and keep aside.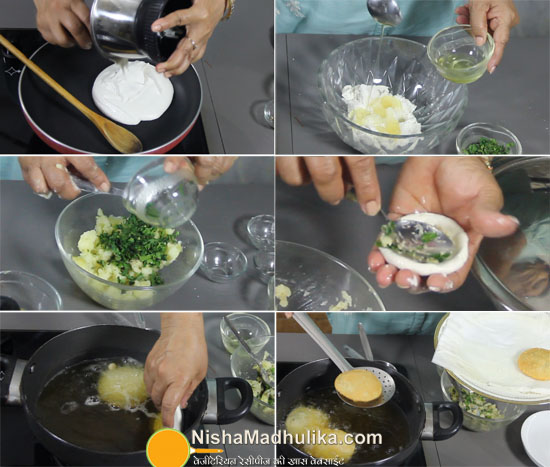 Prepare the stuffing
Peel the boiled potato and crumble it in a bowl. Add 1/3 tsp sendha salt or as per taste, green chili, chopped black pepper, roasted cumin and green coriander. Mix everything really well.
Prepare Kachoris
Make small lumps from the dough. Meanwhile heat enough oil on a wok to fry the kachoris. Take one lump and grease your hands with some oil. Roll it into a round shape. Press it down at the center giving a bowl shape and place 1 tsp stuffing over it. Lift the dough ball from all side and close the stuffing.
Press the stuffed dough ball gently with your hands and flatten it a little. Likewise prepare remaining kachoris as well.
Fry the kachoris
Check if the oil is right hot prior frying the kachoris. For this drop a little lump in the oil, it is frying gradually. Oil should be only this much hot for frying the kachoris. Gently slide the kachoris into hot oil. When the kachoris turn little brown from beneath, flip the side and continue frying until they get golden brown in color from both the sides.
Drain out the fried kachoris over tissue paper and similarly rest of the kachoris as well. It takes 9 to 10 minutes to fry kachoris at once.
Serve these cripsy samo rice kachoris with curd and sweet chutney for vrat. These crusty kachoris make a perfect meal for vrat or whenever you crave for something different and delicious.
Suggestions
Grind the rice without adding water. If it is not possible to grind the rice then 1 to 2 tsp water can be added.
If you wish to eat spicy then increase the quantity of chili.
Close the kachoris well after stuffing the, else the stuffing can come out while frying.
Don't make the kachoris too thin and fry them on medium-high flame.
Flatten the kachoris very gently after stuffing as rice are gluten free and these can break too quickly.
Sama Kachori Recipe for Navratri - Samak Kachori - Upvas ki kachori

Tags
Categories
Sama Kachori Recipe for Navratri - Samak Kachori - Upvas ki kachori
Nisha Madhulika
Rating:

5.00

out of

5