Banana Chips - Banana Thin and Crispy Wafers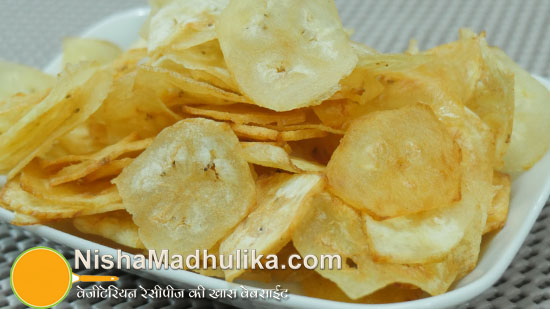 Raw banana chips makes a perfect light and super tasty snack.
हिन्दी में पढिये : Banana Chips - Banana Thin and Crispy Wafers
Ingredients for Banana Thin and Crispy Wafers
Raw banana – 4 (600 grams)
Water – 2 tbsp
Salt – 1 tsp or to taste
Oil – for frying
How to make Banana Chips
Take 2 tbsp water and 1 tsp salt in a bowl and mix thoroughly. Also heat enough oil in a wok on flame.
After this, take a banana and peel the skin from it. Remove little portion from both the ends.
Cut the chips directly into the wok
Medium hot oil is needed for frying the chips. To check if the oil is rightly hot bring your hand over the wok and warmth can be felt. Oil is rightly hot. With help of chips cutter, cut the chips directly to the wok. Stir the chips a little with ladle. Fry them on medium flame.
When the chips are slightly roasted, add 1/2 tsp salt mixed water to it and stir them with a ladle. Water starts crackling. Keep stirring and continue frying until the water settles.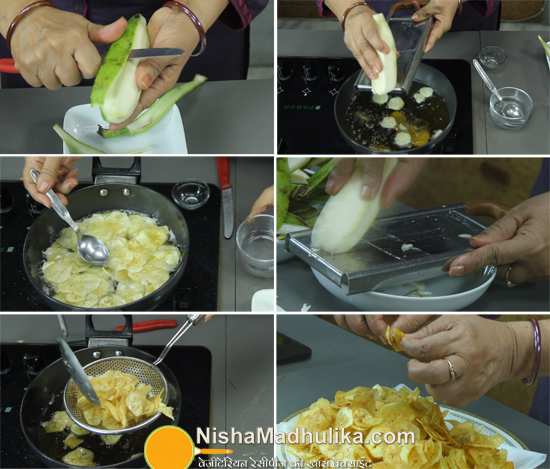 Take out the fries chips over a slotted ladle and hold for a while. Chips have turned crispy. Place a sieve over the wok and transfer the chips into it. With the excess oil will drain out. This is the best method for frying the chips or any other fine textured snack. Transfer the chips over a plate covered with absorbent paper so that remaining oil drains out as well.
Other method to make chips
Cut the chips in a separate place first. Drop the chips one by one in to the wok and fry them. After this, like above add salt mixed water and fry the chips. If you find it inconvenient to cut and directly fry the chips then this method can be used. Likewise cut rest the bananas as well. It takes 5 minutes to fry chips at once.
Crispy and crunchy banana wafer are ready. Making this chips are really easy. Whenever you crave for something light snack then try out making these raw banana chips and relish eating.
Suggestions
Salt mixed water is added to reduce the temperature of the oil so that chips get crispy.
We have used refined flour but you can use any other cooking oil or coconut oil for frying the chips.
You can keep the sieve over a bowl and meanwhile cut and fry the remaining chips as well. With this excess oil will drain back to the bowl.
You can use any of the two method for frying the chips but cutting chips in a plate first and then fry them one by one as it is more safe and easy.
While frying be very cautious that the oil doesn't splatter on you. When the water starts crackling step aside from the wok. When water settles down stir the chips and continue frying.
Salt mixed water is added to the oil so that the chips get equally salty in taste but if you wish to make them spicy then sprinkle some salt, chaat masala or black pepper powder over the chips.
Banana Chips - केले के कुरकुरे चिप्स - Banana Thin and Crispy Wafers

Tags
Categories
Banana Chips - Banana Thin and Crispy Wafers
Nisha Madhulika
Rating:

5.00

out of

5