White Bread Recipe - Basic White Yeast Bread - Eggless white bread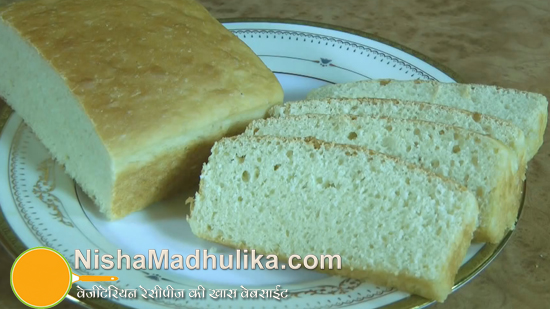 Homemade breads taste super tempting and soft. Let us prepare white bread today.
 हिन्दी में पढिये : White Bread Recipe - Basic White Yeast Bread - Eggless white bread
Ingredients for eggless white bread
Refined flour - 2.5 cup
Milk - 1/3 cup
Oil - 2 tbsp
Instant Active Yeast - 1 tsp
Salt - more than 1/2 tsp or to taste
Sugar - 2 tsp
How to make Basic White Yeast Bread
Knead dough
Take refined flour in a mixing bowl and make a hole in center. To it add sugar, instant yeast and oil. Mix everything well. Keep adding milk in small portions and knead the dough. Now with help of lukewarm water knead soft dough as required for making chapatti. Knead until smooth and soft. For kneading this much quantity of dough 1/2 cup of water is used.
Grease a bowl with some oil and place the kneaded dough in it. Apply some ghee over the dough as well. Cover and keep it aside for 20 to 25 minutes.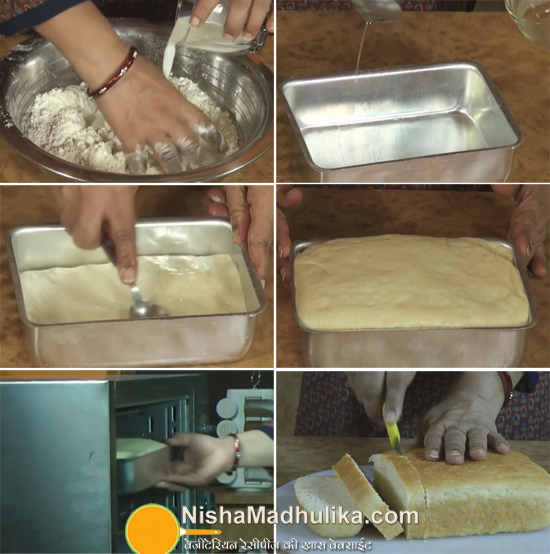 After 25 minutes, grease a baking container and set the dough inside the container. Apply some oil over the dough, cover the container and keep aside for 2 hours to set on a warm place. Dough puffs up into double.
Bake the bread
Preheat the oven at 200 degree. When the dough has puffed up well, place it inside the oven and cake for 25 minutes.
After 25 minutes, take out the container from oven and place it over a net stand. Let the bread cool down and then make slices. White bread is now done and ready.
Fresh and spongy white bread is ready. Use it for making sandwich, bread pizza, bread roll or apply some jam or butter to these slices and relish eating.
Suggestion
Instead of oil butter can also be used.
There is no need to activate instant dry yeast in water. Just mix it directly to the refined flour.
White Bread Recipe - Basic White Yeast Bread - eggless white bread

Tags
Categories
White Bread Recipe - Basic White Yeast Bread - Eggless white bread
Nisha Madhulika
Rating:

5.00

out of

5