Dahi Papdi Chaat Recipe - Papri Chaat Recipe - How to make Papdi Chaat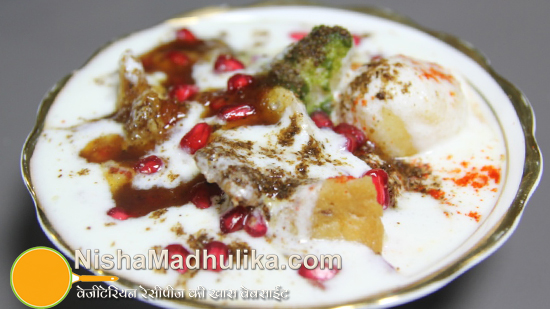 Popular and tasty street food chaat papdi is perfect to add a twist to your daily meals.
हिन्दी में पढिये : Dahi Papdi Chaat Recipe - Papri Chaat Recipe - How to make Papdi Chaat
Ingredients for Papri Chaat Recipe
For Papdi
Refined flour - 1 cup
Oil - 3 tbsp
Cumin seeds - 1/4 tsp
Salt - 1/4 tsp
Oil - for frying
Peanuts - 1/2 cup (for frying pakoris)
For making Chaat
Fresh curd - 1 cup
Black salt - 1/4 tsp
Sugar - 1 tsp
Sweet chutney
Green coriander chutney
Pomegrante
Salt
Roasted cumin
Chaat masala
Red chili powder
How to make Dahi Papdi Chaat
Soak the dal in water for 2 hours. Then remove the extra water and grind the dal little coarsely.
Knead stiff dough
Take refined flour in a big mixing bowl and to it add salt, cumin and oil. Mix everything really well. Now add water in small portions and knead stiff dough. For kneading this much quantity of dough 1/4 cup of water is used. Cover and keep the dough aside for 15 to 20 minutes to set.
Prepare pakoris
Whisk the moong dal for 3 to 4 minutes constantly until puffy. Heat enough oil in a wok to deep fry the pakoris. When the oil is hot, make small round pakoris from the batter and drop them in the oil. Fry until they get golden brown in color and then drain them out. Similarly fry remaining pakoris as well.
Soak the pakoris in water
Take 3 cups of water in a bowl and mix 1 tsp salt to it. Drop fried pakoris to the water and keep them drenched for 15 to 20 minutes to make them soft and puffy.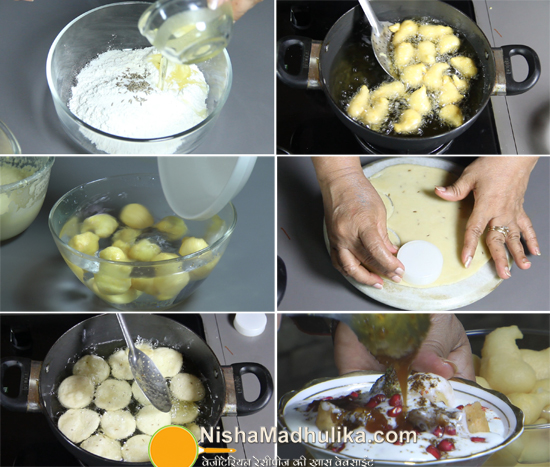 Prepare Papdi
Knead the dough again until smooth and divide it into two parts. Take one part and roll into a round lump. Roll it out into thick parantha. After this, take a lid of bottle and make roundels with the cap at distance to make papri. After cutting the papdis, remove extra dough.
Papdis are little thick, so roll them out a little thinly. Make 4 to 6 pricks over the papdis on both the side. Make small dough balls from the remaining dough and roll out to make papdis. Prick these as well.
Fry the papdis
In medium hot oil, drop the papdis to fry. Keep the flame low-medium. When the papdis are fried from beneath, flip the side and continue frying until they get golden brown in color.
Prepare Chaat
Mix some salt and sugar into the curd. To serve chaat papdi, take 3 to 4 moong dal pakoris and squeeze out excess water. Break 2 papdis as well. Pour 5 to 6 tsp curd, 1 tsp sweet chutney, 1/2 or 1 tsp green coriander chutney and sprinkle some red chili powder, chaat masaal, cumin powder, salt and pomegranate. Pour some more curd, 4 to 5 pomegranate seeds and sprinkle some more cumin powder, salt and sweet chutney. Chaat papdi is ready to serve. Have this tangy and tasty chaat papdi and relish eating.
Suggestions
Don't over fry the pakoris.
You can use urad dal and moong dal for making the pakoris.
Instead of cutting out papdis from one rolled sheet you can make small dough balls and roll them out to make papdis.
Dahi Papdi Chaat Recipe - Papri Chaat Recipe - How to make Papdi Chaat

Tags
Categories
Dahi Papdi Chaat Recipe - Papri Chaat Recipe - How to make Papdi Chaat
Nisha Madhulika
Rating:

5.00

out of

5