Paneer Jalebi Recipe - Bengali chanar jalebi - Chanar Jilipi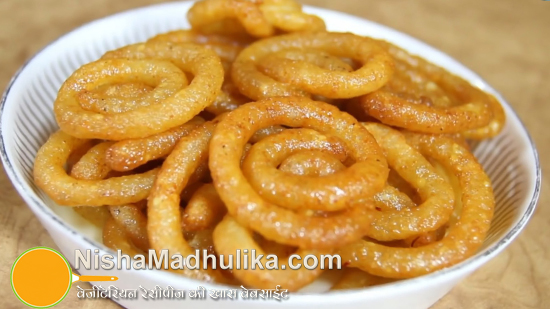 Delicious and different in taste than regular jalebis these paneer jalebis can prepared for any festival or special occasion.
हिन्दी में पढिये : Paneer Jalebi Recipe - Bengali chanar jalebi - Chanar Jilipi
Ingredients for Chanar Jilipi
Paneer - 200 gram (1 cup ) (crumbled)
Saffron threads -25 to 30
Refined flour - 1/4 cup
Sugar - 1.5 cup (300 grams)
Ghee - for frying the jalebis
How to make Paneer Jalebi
Add some water to saffron threads so that they dissolve well into it.
Prepare batter with refined flour
Add little water in refined flour and stir to dissolve lumps. Now add some more water and stir for 4 to 5 minutes constantly. Make a batter with pouring consistency. Cover and keep this batter on a warm place for 1 hour to set.
Prepare syrup
Take sugar and 1 cup water (2 tbsp water more). When the sugar dissolves completely let it cook for 2 to 3 minutes. Meanwhile, mash the paneer. For this, take paneer in a plate and knead until it gets smooth and soft. Add 1 tbsp milk to it and knead really well until smooth.
Check the syrup
Take 2 to 3 drops of syrup in a bowl and let it cool down. Take the syrup between your thumb and finger, it should be gooey like honey. There is no need to look for thread in syrup. Sugar syrup is ready, mix saffron water to it.
चाशनी चैक करने के लिए 2 से 3 बूंदे प्याली में गिरा लीजिए और ठंडा होने के बाद चाशनी को उंगली और अंगूठे में चिपकाकर देखिए, यह शहद की तरह चिपकनी चाहिए, चाशनी में तार बनने की आवश्यकता नही है. चाशनी तैयार है. तैयार चाशनी में केसर का पानी डालकर मिक्स कर दीजिए.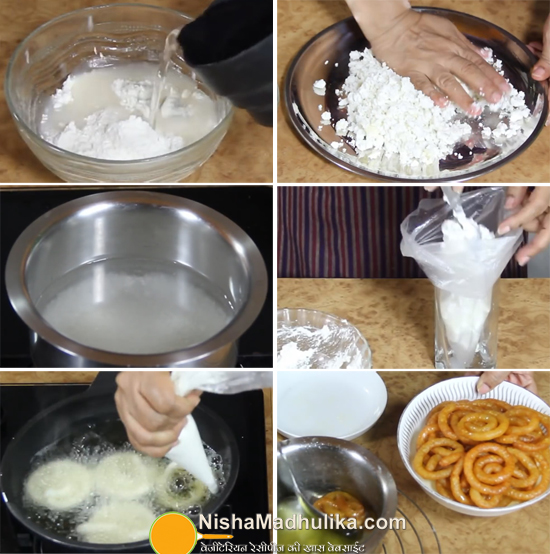 Prepare batter for jalebis
Take mashed paneer in a bowl and also whisk the prepared refined flour batter as well. Add this batter to the paneer and blend them really well. Whisk thoroughly and the batter for jalebi is ready.
Fry the jalebis
Take a cone for making the jalebis and place it over a glass. Transfer the jalebis batter into the cone. Close the cone from top and hold tightly. Make small hole at the bottom of cone using scissor.
Heat enough ghee in a wok. When the ghee is hot, add little batter in to it to check if the ghee is rightly hot. If the batter floats immediately on the ghee that means it is rightly hot. Press the cone in circular motion and make jalebis directly into the ghee. Fry the jalebis on low-medium hot ghee. When they get brown from beneath, flip the side and fry until they get golden brown in color.
Drop the jalebis into syrup
Take out the fried jalebis in a plate. After this, drop them in sugar syrup and keep them drenched in syrup for 2 minutes.
After 2 minutes, take out the jalebis in a plate and soak the remaining jalebis as well. Keep them drenched for 2 minutes and take out in a plate.
Sugar coated and flavorsome paneer jalebi is ready. Serve them in a special occasion or to your guests.
Suggestions
If we add water altogether to the refined flour then it gets difficult to dissolve the lumps.
To add color to the jalebis, add 1 to 2 pinch food color to it.
Saffron is added to give good flavor and also it gives slight yellow color to it.
If cone is not available, take milk bag and hold it in cone shape. Make a small hole at the bottom and use for making jalebis.
Paneer Jalebi Recipe - Bengali chanar jalebi - Chanar Jilipi

Tags
Categories
Paneer Jalebi Recipe - Bengali chanar jalebi - Chanar Jilipi
Nisha Madhulika
Rating:

5.00

out of

5