How to make Ghee at home? | Clarified Butter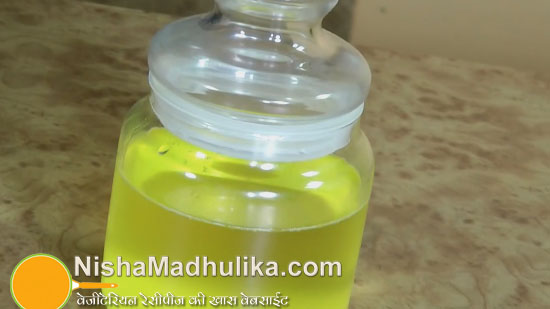 Homemade desi ghee is adulteration free, tasty and fragrant. Let us prepare desi ghee from homemade butter.
हिन्दी में पढिये : How to make Ghee at home? | Clarified Butter
Ingredients for Clarified Butter
How to make Ghee at home?
For making ghee, heat butter in a pan. While heating the butter, keep stirring it after 2 minutes to prevent it from browning.
When the butter melts, keep stirring it regular intervals till the milk solids and ghee separates. Keep the flame low-medium. Keep constant check on the ghee and keep stirring at every 2 minutes. When the ghee and milk solids separates out, turn off the flame and let it cool down.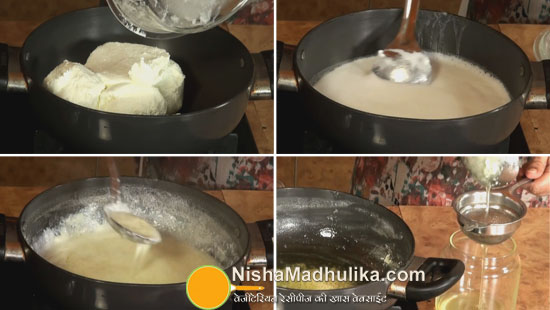 When the ghee cools down, strain it out through a fine sieve in a separate vessel. Residues left over the sieve can be used as mawa. Add some sugar and roasted chickpea flour and prepare barfi from it or you can make any other sweet from this mawa as per your preference. This prepared desi ghee can be used in dals, roti, sabzi, poori or paranthas.
Suggestions
If the flame is too high then it can burn and can also spill out from the wok. Therefore keep the flame medium-low.
Keep the malai in refrigerator to keep its taste intact and the milk solids will also taste good.
If we do not stir the ghee constantly then the milk solids settles at the bottom and can burn.
How to make Ghee at home? | Clarified Butter

Tags
Categories
How to make Ghee at home? | Clarified Butter
Nisha Madhulika
Rating:

5.00

out of

5