Ginger Green Chilli Pickle - Adrak Hari Mirch ka Achaar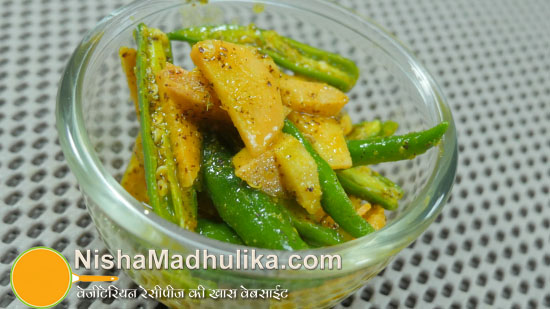 Those who love eating spicy then this pickle of ginger and green chili pickle will be their favorite. This pickle prepared with green chili, ginger, mustard and vinegar is tangy-spicy to eat.
हिन्दी में पढिये : Ginger Green Chilli Pickle - Adrak Hari Mirch ka Achaar 
Ingredients for Adrak Hari Mirch ka Achaar
Green chili – 100gms
Ginger- 150 gms
Lemon – 2
Mustard oil- 4 tbsp
Vinegar- 4 tsp
Mustard seeds- 2 tbsp (coarsely grind)
Salt- 2 tsp ( or more than 1 tsp)
Turmeric powder- 1 tsp
How to make Ginger Green Chilli Pickle
Peel the ginger and rinse it well along with green chilies. Place them under sunlight to dry for 4 to 5 hours. 
After they dry, remove the stalk from green chili using a knife. After this divide it into two parts, lengthwise. If the chili is too long then cut it down into four parts. Similarly cut every green chili. Also, thinly slice the ginger as well.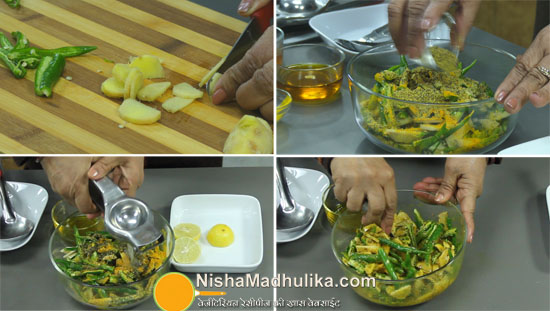 Take a big mixing bowl and to it add chopped ginger and green chili. Don't mix the seeds if left out while chopping the chilies. Now to the ginger-chilies add salt, turmeric powder and coarsely ground mustard, followed by mustard oil and vinegar.
After this, cut lemon into half and squeeze out the juice directly in the bowl. Mix everything really well to the ginger and green chilies.
Super tempting and tangy-spicy ginger green chili pickle is ready. This pickle can be served right away but the real taste comes after 2 days when ginger and green chili absorb the spices. Store the pickle in any container and stir the pickle after 2 to 3 days with a clean spoon. Use this pickle in your meals or anytime you want.
Suggestions
Instead of thin spicy green chili, thick and less green chili can be used. 
Out of Black or yellow mustard powder any powder can be used.
If you don't like the spiciness in mustard oil then heat the oil really well and let it cool down a little. Then add this oil to the pickle. 
Any type of vinegar can be used in making pickle.
You can also make use of lemon juice only but use of vinegar increase the shelf life of pickles and also enhances the taste.
Always use clean and dry spoon for taking out the pickle from container.
Ginger Green Chilli Pickle - Adrak Hari Mirch ka Achaar - अदरक हरी मिर्च का अचार

Tags
Categories
Ginger Green Chilli Pickle - Adrak Hari Mirch ka Achaar
Nisha Madhulika
Rating:

5.00

out of

5