Spicy Dry Masala Kachori Recipe - Crispy Kachori Stuffed with Spicy Dry Masala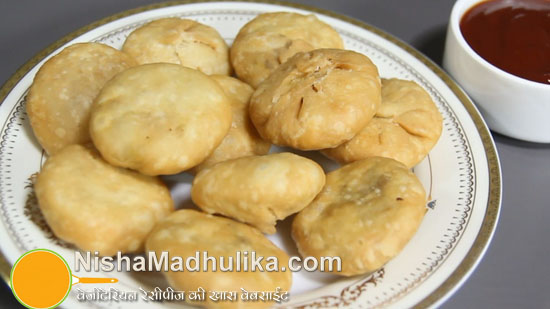 Dry fruits, spices and sev stuffed dry masala kachoris have a longer shelf life. These crunchy kachoris makes a perfect snack for any picnic or outing.
हिन्दी में पढिये : Spicy Dry Masala Kachori Recipe - Crispy Kachori Stuffed with Spicy Dry Masala
Ingredients for Spicy Dry Masala Kachori Recipe
Refined flour – 1 cup
Oil – 2 tbsp
Salt - ¼ tsp or to taste
For stuffing
Namkeen sev – 100 grams
Cashews – 2 tbsp (10-12)
Almonds – 2 tbsp (10-12)
Raisins – 1 tbsp
Sweet chutney – 2 tbsp
Poppy seeds – 1 tbsp
Sesame seeds – 1 tsp
Cumin seeds - ½ tsp
Brown cardamom – 2
Fennel powder – 1 tsp (coarsely ground)
Coriander powder – 1 tsp
Dry mango powder - ½ tsp
Red chilly powder – ¼ tsp
Garam masala - ¼ tsp
Turmeric powder – less than ¼ tsp
Salt - ½ tsp
Oil – to fry kachoris
How to make Crispy Kachori Stuffed with Spicy Dry Masala
Take refined flour, salt and oil in a big mixing bowl and mix everything really well. Add water in small portions knead soft dough. Don't knead the dough too much, cover and keep aside for 15 to 20 minutes to set.
Prepare stuffing
Coarsely ground sev, almonds and cashews.
Heat 1 tbsp oil in a pan and splutter cumin seeds first. When the cumin seeds crackle, add poppy seeds and sesame seeds as well and saute for a while. Now to it add coriander powder, fennel powder, cinnamon, turmeric powder, ground cashews, almonds, sev, garam masala, salt, mango powder and red chilly. Mix everything really well and roast the spices for 2 minutes while stirring constantly.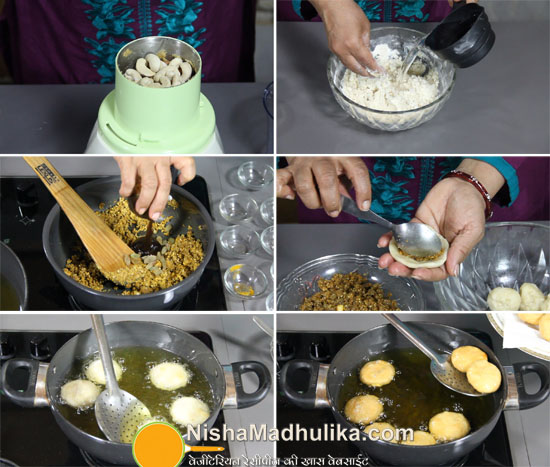 Now mix raisins and chutney to it and mix well. Roast for another 1 minute and keep stirring. Spices are now roasted well, turn off the flame and transfer it to a bowl. Let the mixture cool down a little.
Knead the dough again and make small lumps from it. Take one lump, roll giving it a round shape and flatten making a deep hole. Now place 1 tsp stuffing over it, lift the dough from all sides and close very nicely. Flatten a little with your palms and kachori is ready. Likewise prepare rest of the kachoris as well.
Heat enough oil in a wok and make it medium hot. Now slide as many kachoris as possible at once. When the kachoris puff up and start floating on the surface, flip the sides and continue frying until they get golden brown in color from all sides. Drain out the fried kachoris and similarly fry rest of the kachoris as well.
Steaming hot dry masala crusty kachoris are ready. Serve them with tomato sauce or any other chutney as per your taste. Let the kachoris cool down and store them in a container and relish eating for up to 1 month.
Suggestions
Knead soft dough for the kachoris.
While stuffing the kachoris make sure they are closed well.
Make sure you flatten the kachoris very gently.
If the any kachori splatters while frying, drain it out and fry in the end.
Spicy Dry Masala Kachori Recipe - Crispy Kachori Stuffed with Spicy Dry Masala

Tags
Categories
Spicy Dry Masala Kachori Recipe - Crispy Kachori Stuffed with Spicy Dry Masala
Nisha Madhulika
Rating:

5.00

out of

5